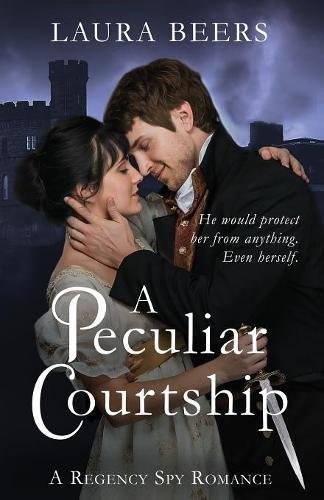 Publisher's Note:
Lord Jonathon Beckett's mission is simple: retrieve Lady Hannah and place her under the protection of the Crown. But he isn't prepared for the havoc she inflicts on his world, making him question whether his duty as an agent of the Crown should always come before his heart.
Lady Hannah's father has uncovered evidence exposing a French traitor to the Crown. Willing to do anything to silence him, the traitor's primary target has become Lady Hannah. Keeping her safe means locking her away from Society, but she refuses to stand idly by, letting others put their lives on the line to protect her. Instead, she will stop at nothing to learn to defend herself, even at the risk of losing Lord Jonathon's protection, or his affections.
With a sinister scheme in play to collapse the English government from within, Lord Jonathon must protect Lady Hannah from the French spies intending to use her as a pawn in their game of treachery. But can he protect her from herself?
This book was sent to Compass Book Ratings for review by the Author
A Peculiar Courtship
by Laura Beers
Overall Review:
Action, intrigue, and danger abound in A Peculiar Courtship, the second book in the Beckett Files series. Written by Laura Beers, this Regency Spy Romance starts with a bang and races through an enthralling and entertaining plot. Readers will be delighted to find the same beloved characters from the book's predecessor, Saving Shadow. This story focuses on Eliza's brother, secret agent Jonathon. Good-natured Lady Hannah is introduced as the novel's heroine and Jonathon's potential love interest. Beers shines in her character development and the scenes of sweet romance between Jonathon and Hannah are sure to be crowd-pleasers. While A Peculiar Courtship makes several references to the first book in the series, it can be enjoyed without reading the other. With compelling mysteries, fast-paced adventure, and a satisfying ending, A Peculiar Courtship is highly recommended!
Review of an Advance Reader Copy
Content Analysis:
Profanity/Language: 5 mild obscenities, 6 derogatory names.
Violence/Gore: A few verbal threats; frequent secondhand reports of violence, including domestic abuse leading to a miscarriage, a character injured from being thrown from a horse, carriage accidents resulting in death, recounting an assassination attempt and other spy adventures; several brief scenes of violence include physical fighting, stabbings, attempted abductions where a character has a knife at her throat, carriage accidents and shootings; an extended scene of violence includes a character being abducted; a few brief, non-detailed scenes of violent death occur; a brief scene of intense violence includes killing by shooting.
Sex/Nudity: Frequent incidents of kissing; multiple sexual references including mention of a brothel; two characters found in an "intimate position"; a woman is called a prostitute; a few implied or reported accounts of sexual activity including affairs, brothels and prostitution; a veiled reference of rape of a wife by her husband and an affair between a mother and her son-in-law.
Mature Subject Matter:
Domestic abuse and other physical abuse causing a miscarriage, adultery mistresses, reference to rape, treachery, battle, death.
Alcohol / Drug Use:
Characters drink in several scenes; a character is pictured drinking and smoking; a man is recalled as being a drunk.
Reviewed By Rachel