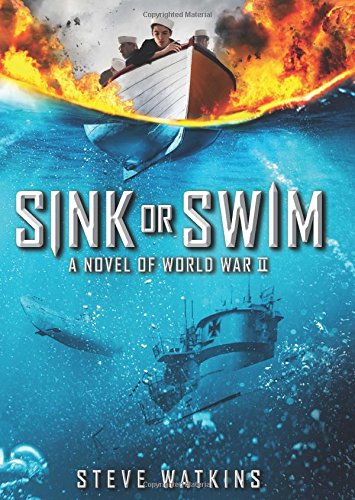 Publisher's Note:
It's been a month since the bombing of Pearl Harbor. America is officially at war with Germany and Japan, and everyone wants to do their part. In twelve-year-old Colton's case, that means stepping up at home once his older brother, Danny, ships out with the navy. But before Danny leaves for boot camp, the brothers are fishing on the Atlantic Ocean when Danny's boat is capsized by a Nazi U-boat, nearly killing him.
When more U-boats start attacking the next day, Colton realizes just how close the enemy is to American shores. With Danny's life in the balance, Colton does the only thing he can think of to help his family and his country: He steals his brother's enlisting papers and joins up instead.

Colton's bold decision leads to a deadly journey. Even if he can keep his age a secret and survive boot camp, he'll have to face Hitler's ruthless submarines. But the longer he's on the seas, the less sure sure Colton is that he and his shipmates can stop such a relentless enemy . . .
This book was sent to Compass Book Ratings for review by Scholastic Press (A Scholastic Imprint)
Sink or Swim; A Novel of World War II
by Steve Watkins
Overall Review:
When his older brother is injured by a U-Boat off the shore of their North Carolina home, 12-year old Colton does the only thing he can think of to help support his family: take his place at the Navy recruitment office. But can get away with it? And, if he does, will he survive the war?
Highlighting a little-known aspect of the Second World War, author Steve Watkins masterfully blends fact and fiction in Sink or Swim: A Novel of World War II creating a high stakes tale of loyalty and family. Inspired by the story of Calvin Graham, who did in fact join the Navy at age twelve and serve in the South Pacific until his discovery, Colton is a young man on a mission. Watkins beautifully captures the attitudes of the young men who signed up for the Armed Forces after the attack on Pearl Harbor along with the conditions and dangers that they faced once enlisted, and his depictions of their complex motivations and drive to succeed lend the story a strong authenticity.
Sink or Swim: A Novel of World War II is a touching look at war through the eyes of a child who finds himself an active participant and will capture the attention of readers of all ages from start to finish.
Content Analysis:
Profanity/Language: 2 religious exclamations; historical racial slurs used.
Violence/Gore: Many references to/scenes of war time violence (battles, death, severe injury, sinkings, etc.); many threats and implications of violence, both facetious and sincere; reference to parental death; fishing boats nearly sink; several near drownings; boy sustains serious injury, falls into a coma; man kicks teen; men punch teen in the arms; depictions of the brutal physicality of basic training; man nearly knocks boy over; several references to the dangers of cold water; man orders cargo dumped off dock; boy pushed overboard; teen knocks himself out; teen gets tattoos; teen gives boy a friendly nuggy; boy tossed into wall; ships nearly collide; teen swept overboard; man punches teen; teen hits head; explosion kills several people; boy takes shrapnel in the leg; men sustain salt sores; man points gun at other men.
Sex/Nudity: Navy recruits strip before receiving uniforms.
Mature Subject Matter:
War, family, death, injury.
Alcohol / Drug Use:
Alcohol and tobacco consumed by characters, some under age.
Reviewed By Amberle