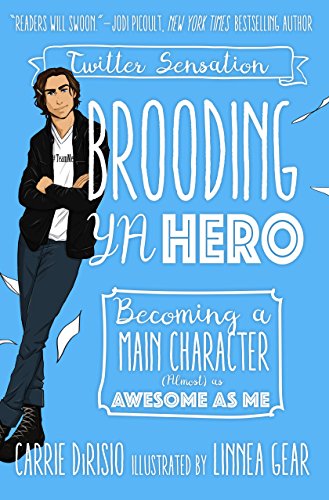 Publisher's Note:
Have you ever wished you could receive a little guidance from your favorite book boyfriend? Ever dreamed of being the Chosen One in a YA novel? Want to know all the secrets of surviving the dreaded plot twist?
Or maybe you're just really confused about what "opal-tinted, luminous cerulean orbs" actually are?
Well, popular Twitter personality @broodingYAhero is here to help as he tackles the final frontier in his media dominance: writing a book. Join Broody McHottiepants as he attempts to pen Brooding YA Hero: Becoming a Main Character (Almost) as Awesome as Me, a "self-help" guide (with activities--you always need activities) that lovingly pokes fun at the YA tropes that we roll our eyes at, but secretly love.
As his nefarious ex, Blondie DeMeani, attempts to thwart him at every turn, Broody overcomes to detail, among other topics, how to choose your genre, how to keep your love interest engaged (while maintaining lead character status), his secret formula for guaranteed love triangle success, and how to make sure you secure that sequel, all while keeping his hair perfectly coiffed and never breaking a sweat.
This book was sent to Compass Book Ratings for review by Sky Pony Press
Brooding YA Hero: Becoming a Main Character (Almost) as Awesome as Me
by Carrie DiRisio
Overall Review:
Brooding YA Hero: Becoming a Main Character (Almost) as Awesome as Me is an outrageously funny romp through the mind of an average male YA main character and his view, albeit skewed, of how the world functions, characters act, and stories are written. Broody is the embodiment of every stereotype ever to have exited the YA literary world. He is narcissistic, gorgeous, and more than a little over the top. When laid off or just not wanted for another novel, he decides to write a how-to book for supporting characters on just how they can up their game and become main character material.
Brooding YA Hero is an incredibly intriguing book. Fans of YA fiction will find themselves laughing at how YA fiction as a whole is portrayed. Haters of the genre may even get a kick out of the book and find a whole lot of relatable commentary. Long-time readers off these novels will also enjoy the subtle pokes and jabs at some of the most famous YA fiction ever written sprinkled throughout the book.
As comical and satirical as this novel is, I think it also provides a pretty good resource for younger readers who are just starting to venture into the world of YA fiction. The novel does a good job of outlining the basic characters, plotlines, types, and settings of this genre. While, yes, some is tongue-in-cheek, I found the descriptions relatively accurate. Young readers could use this novel as a good base point for jumping into the genre and understanding a bit more about the characteristics of the books they will read in the future.
Readers beware--lots of sarcasm, so don't be overly offended. Overall a great choice for readers of all ages, YA fans and non-fans alike, and those just looking for a lighthearted read to while away a few hours.
Content Analysis:
Profanity/Language: 3 mild obscenities; 5 anatomical terms.
Violence/Gore: None
Sex/Nudity: Reference to male having shirt off; reference to sleeping together; reference to same sex couples.
Mature Subject Matter:
None
Alcohol / Drug Use:
None
Reviewed By Beckie