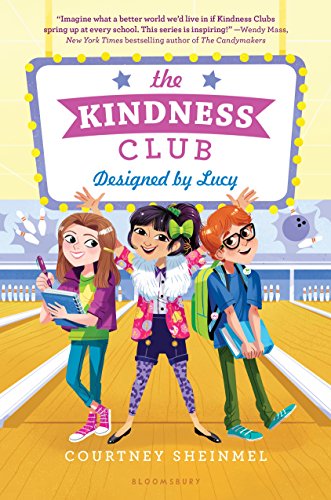 Publisher's Note:
Creative and fashion-forward Lucy Tanaka was thrilled when Chloe Silver moved to town. Together with Theo Barnes, they formed The Kindness Club, testing different acts of kindness on their friends, neighbors, and siblings. One day, Lucy learns that their classmate, Serena, recently lost her mother. On top of that, it's Serena's birthday next weekend. Lucy is determined to lift Serena's spirits, and she knows the perfect way to do it--rallying the Kindness Club to throw Serena the best birthday party ever at her family's bowling alley.
But as unexpected complications arise that threaten to ruin the party, can Lucy find another way to help her new friend during this hard time?
Inspired by kindness projects and anti-bullying campaigns across the country, award-winning author Courtney Sheinmel's delightful series will have all readers thinking kind!
This book was sent to Compass Book Ratings for review by Bloomsbury Children's Books
The Kindness Club: Designed by Lucy
by Courtney Sheinmel
Overall Review:
Lucy and her friends Chloe and Theo have started a club with kindness as their goal, but sometimes it's harder and takes a little more effort to be kind. In The Kindness Club: Designed by Lucy (second in the series but stands alone rather well) written by author Courtney Scheinmel, Lucy is trying to get better about being kind, but sometimes things don't always go as planned. For Lucy that is rather frustrating, especially since being kind seems like it is second nature for her friend Chloe. Not only have the three of them decided to do three kind things a day as part of the club, Lucy has decided they should have a big project to be working on as well. However, Lucy soon learns the hard way that not everyone wants something big and grand done for them, nor do they want to be someone else's project. This valuable lesson about kindness usually means the most when it is heartfelt, simple and often unplanned is one that Lucy learns throughout this novel, but is also a good reminder for all of us.
The Kindness Club: Designed by Lucy is a fresh breath of goodness and kindness and the power it has in a world full of meanness, callousness, and selfishness. We could all stand to be a little more kind and this novel is a good reminder of that.
Review is of an Advance Reader's Copy
Content Analysis:
Profanity/Language: None
Violence/Gore: None
Sex/Nudity: None
Mature Subject Matter:
Divorce, death of a family member.
Alcohol / Drug Use:
None
Reviewed By Sally