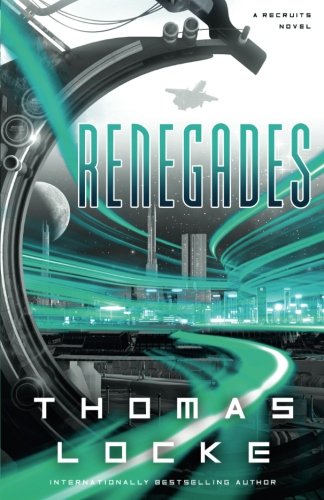 Publisher's Note:
Twins Sean and Dillon are using their transit abilities for good--but not everyone sees it that way. Arrested and imprisoned by a clandestine group within the highest reaches of the Human Assembly, Sean and Dillon are forced to choose sides between those who wish to serve and those who seek to rule.

At the same time within a distant outpost system, a young soldier is coming into his own. Logan has known since childhood that he possessed a special ability--a distinct form of transiting called ghost-walking. Though ghost-walking has been outlawed for centuries, Logan is secretly drawing together a crew for a risky quest.

The fates of these three young men will lead them, along with the entire Assembly, to the brink of destruction in this inventive tale of adventure, honor, and the things worth fighting for.
This book was sent to Compass Book Ratings for review by Revell
Renegades
by Thomas Locke
Overall Review:
Thomas Locke continues his Recruits series with the second book entitled Renegades. The first book in the series was fun and involved light-hearted banter between twins Sean and Dillon. Renegades contains very little of this. In fact, for the first half of this book, things seem confusing and hard to follow. The author jumps back and forth between three characters, Sean, Dillon and Logan. The jumps between Logan and the twins complicate things and are more distracting than helpful.
About half-way through the story things become more connected and start making sense. The concept of the world in which this bit of sci-fi takes place is interesting, but this particular book fell flat. It seems as though most of the relationships in the previous book are gone and little is left to remind readers of the first novel in the series. Then, with very little development, a main character is suddenly ready to pursue a relationship. It feels forced and there is not much in the way of interactions that would support the relationship. Hopefully, the next book in the series will recapture some of the spirit of the first.
Content Analysis:
Profanity/Language: None
Violence/Gore: Report of a child watching his father be hung; a multi-page battle scene in which many weapons are fired resulting in destruction of people and property; fantastical beast also participates in a battle scene.
Sex/Nudity: Non-married characters hold hands.
Mature Subject Matter:
Death of close friend, war, orphans.
Alcohol / Drug Use:
Report of a woman who was a drug addict.
Reviewed By Susan