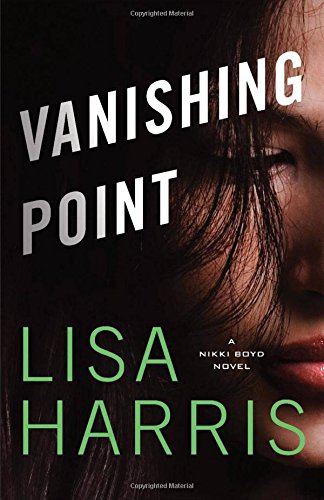 Publisher's Note:
During Garrett Addison's first week on the job as a criminal investigator for the Tennessee Bureau of Investigation, his team is called out to a murder scene of a young girl. She's the third victim in a string of disappearances with one thing in common--a Polaroid photo of each victim left behind at the crime scene.

The FBI is pulled into the case to help, and Garrett finds himself working with Special Agent Jordan Lambert, the woman he once loved. When yet another girl dies--number six--Garrett blames himself and believes he doesn't have what it takes to be an agent. What he'll discover is that, while he may be done with the killer, the killer is not done with him--or Jordan.

Bestselling and award-winning author Lisa Harris unveils an unforgettable story of a case that has haunted the public and law enforcement for more than a decade. Fans of the Nikki Boyd Files will thrill to finally discover what actually happened to Nikki's sister, Sarah. New readers will become instant fans after devouring this chilling tale.
This book was sent to Compass Book Ratings for review by Revell
Vanishing Point
by Lisa Harris
Overall Review:
Vanishing Point by Lisa Harris is a prequel to the Nikki Boyd Files series. The story revolves around the law enforcement team who is investigating a series of murders believed to be caused by a serial killer. It is not light and easy reading, but it is not especially creepy either, because the main characters most often come upon the victims after they are killed. The reader will have plenty of guessing and whodunit moments. There is also a lot of hoping that the investigators figure it out soon so no one else will be injured.
Special Agent Jordan Lambert of the FBI and Investigator Garrett Addison are the focal point of the investigation and romantic aspects of the novel. Each of them has different emotional challenges and as the story progresses they begin to learn to face their struggles. One part of the book that makes it a bit atypical for the Christian romantic suspense genre is that the story takes place over a number of years.
If you are new to Nikki Boyd and her story, it is recommended that this story be read first, but the books in the Nikki Boyd Files series were actually written first, so the back story is not essential. Enjoy the journey and the uncertainty found in Vanishing Point.
Content Analysis:
Profanity/Language: None
Violence/Gore: A person is kidnapped and is recaptured, held at gunpoint and ultimately killed; many mentions of bodies being found with gunshot wounds to the head; a character is grabbed by another, held captive and hunted by kidnapper.
Sex/Nudity: Non-married characters kiss and embrace.
Mature Subject Matter:
Kidnapping, murder, death of parent, terminal illness.
Alcohol / Drug Use:
Marijuana found and characters discuss possibility of someone using it; an adult is drinking a lot of alcohol.
Reviewed By Susan