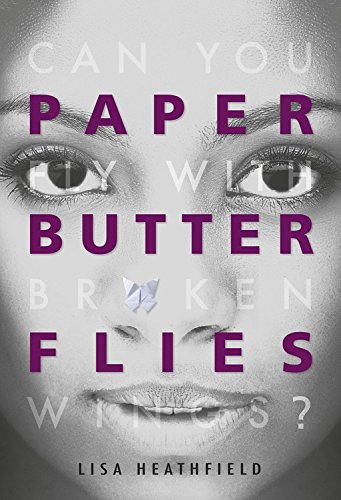 Publisher's Note:
June's life at home with her stepmother and stepsister is a dark one—and a secret one. Not even her dad knows the truth, and she can't find the words to tell anyone else. She's trapped like a butterfly in a net. Then June meets Blister, a boy from a large, loving, chaotic family. In him, she finds a glimmer of hope that perhaps she can find a way to fly far, far away. Because she deserves her freedom. Doesn't she?
This book was sent to Compass Book Ratings for review by Carolrhoda Lab
Paper Butterflies
by Lisa Heathfield
Overall Review:
Lisa Healthfield has never shied away from tough subjects. Her debut novel was about life in a cult. Now in Paper Butterflies she tackles the devastating topic of child abuse and how it can change the life of one girl and all those around her.
Admittedly, at first, I found this book hard to read. Any book about child abuse isn't going to be an easy one. Kathleen was a character you hate from page one. You can't decide whether to feel sorry for or hate Megan just as much. You fall in love with Blister. But the soul just cries out for June. You want to wrap her in your arms and tell her nothing will ever harm her again.
When a choice for just a bit of vengeance changes the rest of June's life, which may now be shorter, you honestly can't blame her. The fateful events of that night make you believe in karma just a little bit more. As she faces the consequences of her actions, intentional or not, you find yourself wanting to yell in the courtroom that the result truly wasn't her fault and that she is the victim, not the others.
Due to the tough and graphic nature of the topic of this book, I can't advise for young readers. Older readers may find some of the abuse tough to read. However, while terrible, the nature of the novel isn't graphic and is a wonderful conversation piece for discussing being aware of those around who are hurting and may need help.
A provocative, thought-provoking read that will keep you turning pages until the very end.
Content Analysis:
Profanity/Language: 1 mild obscenity.
Violence and Gore: Children kill goldfish and give to girl as prank; numerous scenes of child abuse including: woman forcing girl to drink copious liquids and then denying bathroom use, forced feeding of cake until in pain and threatens if girl throws up, grabbing girl by hair and pulling her to bathroom and painting white, holding girl by hair and force feeding dog food, forcing ribbon down girls throat until she cannot breath, grabs by hair and force feeds ice cubes, holds open eyelids and shines flashlight in eyes for extended period, chops off hair while sleeping; boy pulls girls hair; report of murder of man and woman; fist fight between girls with no injuries; girl's bully another by dumping out belongings; girl is bitten by poisonous snake; bike crash resulting in bumps and bruises; girl punches another girl, no detail; girl tips over table and crushes boy's toes, no detail; girl dumps orange juice on another girl's painting; woman smashes girl's mothers grave marker; girl smashes clock and picture; character sets house on fire killing close relatives while trying to burn photos.
Sex and Nudity: 13 kisses between teens, 2 hugs, 5 instances of holding hands.
Mature Subject Matter:
Racial conflict, death of family member, child abuse, marriage infidelity, incarceration, death penalty, stealing, murder, bullying.
Alcohol / Drug Use:
None
Reviewed By Beckie