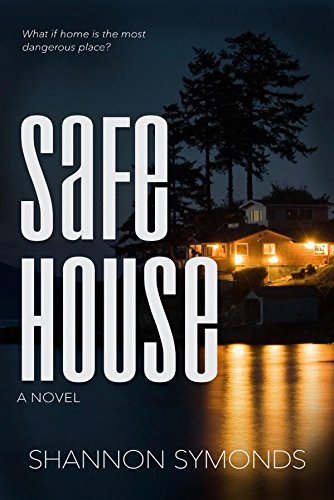 Publisher's Note:
In a small coastal town, Amber and Kelly know the deadliest people sleep down the hall. Will they let Grace in? Grace James and Officer Joe Hart courageously work together in the dark to bring survivors of domestic violence light.
When dangerous storm clouds roll onshore and the gale winds blow over the Pacific Northwest, can catastrophic destruction create hope? When home is the most dangerous place of all, there is Grace in the night and change in the wind.
This book was sent to Compass Book Ratings for review by Bonneville Books
Safe House
by Shannon Symonds
Overall Review:
The first half of this book was a struggle to read because accounts of abuse are never pretty. Toxic environments hurt. Thankfully, within these pages, these tragic tales of romance have hope and that hope grows into something beautiful. In short, this is a book of abuse, advocacy, hope, and recovery.
The author, Shannon Symonds, has created characters that endear the heart of the reader. The reader may find themselves yelling at the characters one moment to "Get out!" and crying with them the next as they fight to protect themselves. When one person has the power to control and hurt another, hearts need to change, and small acts of kindness can mean the world to a wounded person. Kelly and Emily are two moms who cower in fear of their husbands. Amber is 17 and finds herself trying to be invisible. Alan is also about 17 and his friendship means the world to Amber.
It is the author's goal to bring attention to the issues of domestic and sexual violence that are often kept secret in the hearts of the victims. By reading this book, the reader's eyes may be opened to an ugly truth that thankfully, many have never witnessed. Caring for survivors and bringing hope to hurting families is something that advocates strive to do at every opportunity possible. In this story, Grace is a mom and a professional advocate who would move Heaven and Earth to help those in dangerous situations.
This is a religious work of fiction and portrays a "Facebook" look of Mormonism. Mormonism becomes an important part of the recovery and family life of those involved in facing these domestic violence issues and those who fight for their protection. Fast-paced and emotionally descriptive, the story moves quickly, keeping the reader turning the next page to find out if these women and children rally to be strong in their high anxiety worlds. This is Shannon Symonds' first book and as well as this one is written, future books should be just as promising.
Content Analysis:
Profanity/Language: None
Violence/Gore: Stepdad is drunk and angry with intent to hurt kids because they won't be quiet; Stepdad pushes mom, head hits the door frame, knocked out, blood; Stepdad chases kids, intent to harm, grabs teen girl by hair & lifts her off the floor, pulls out hair; baby falls from teen girl's arms because step dad is yanking her around; husband slams door open, hitting wife on ear; woman hit by her husband; husband yells at wife and throws things around in front of kids; Stepdad grabs girl by hair and tries to yank her through car window; teen boy tries to defend teen girl from her step father, some blood, boy squeezes man's throat to almost passing out; husband beats up on wife because she wants an item; little girl changing baby boy's diaper, baby pees and gets urine on girl and in her mouth; husband berates wife, trying to destroy something of hers, he tries to strangle her, she hits him on face with hard item; woman is in jail for physical violence; husband envisions wife is cheating on him and wants to "show her" who's boss; husband is drunk, angry, & set on revenge, breaks wife's nose, blood, passes out, not gory; stepdad hits daughter on face with broken bottle, no blood; stepdad grabs daughter by throat, runs off; teen girl is chasing step dad and sister into woods, bad storm, teen girl gets lost in woods; husband tries to break down the door of girlfriend's daughter's room with intent to rape her, grabs her hair, slaps her; husband is shot when he breaks into girlfriend's daughter's room.
Sex/Nudity: Mention of a wife cheating with her now husband; surfers change in public with only a towel around their waists, no details of nudity; teen boy and girl hug and feel the electricity between them; husband is cheating on wife, mention of graphic pics on his phone, no details; woman is strip searched by a female deputy when entering prison, no details; man looks at pornographic pictures on his computer and magazines, no details.
Mature Subject Matter:
Drunkenness, violent father, juvenile jail, spouse abuse, physical & emotional violence, divorce, marriage infidelity, pornography, attempted rape.
Alcohol / Drug Use:
Stepfather drinks alcohol & often gets drunk and abusive; man drank often as a teen; police officer drinks beer off duty; man drinks beer at girlfriend's house; man in alcohol detox, vomiting, shaking, dreaming of beers.
Reviewed By Beth