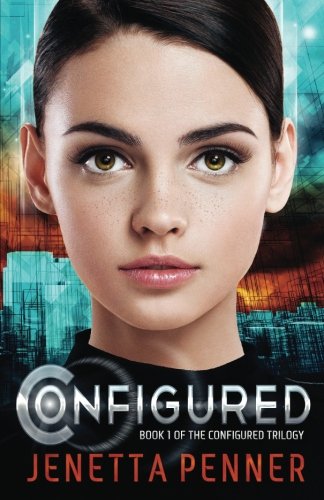 Publisher's Note:
There will come a day... when love will mark you as a traitor.

In a society where emotions are nothing and function is everything, Avlyn Lark is just trying to blend in.

She's lucky to be alive, unlike her twin brother Ben who died when they were four. And she's lucky to have been taken from her biological parents and assigned to a Level Two family. But mastering her emotions? That's a problem, especially when a rebel bomb blows up a building right in front of her.

Then on Configuration Day, Avlyn's official transition to adulthood, she starts seeing strange visions. And instead of being placed with a low-level tech company where she could hide away, she's hired by Genesis Technologies, the government firm that monitors every citizen.

Now, instead of blending in, Avlyn fears she'll be exposed for what she really is. If Gen Tech finds out how deeply she feels, it will ruin her life. And if they find out about her secret meetings with a mysterious but handsome member of the rebel forces, her life will be more than ruined.

It will be over.
Configured: Book #1 in The Configured Trilogy
by Jenetta Penner
Overall Review:
In this uptight, antisocial, dystopian society where secrets abound and emotions are outlawed, people strive to be invisible. Being a good citizen means following lots of rules. But when a person sees a wrong, shouldn't they do something about it? Is there a moral obligation to protect people even if they don't know they are in danger?
Turning 17 and becoming a full-fledged citizen has its perks and its complications. Under the watchful eye of not only the government, but every citizen in the land means paranoia and mandatory obedience. Avlyn is learning how to be an adult very quickly but is faced with options that may change her life. What to do next is her biggest question.
Fast-paced and powerfully descriptive, the author did a fantastic job of writing a story that could appeal to all dystopian and mild sci-fi lovers. Technology is a thing of the future and weaves its way into this story in an intriguing way that draws the reader into a believable setting. Full of emotion, the characters are each passionate in their own way and world, possibly causing the reader to feel despair one moment yet cheering them on the next. From the first page to the last, the story was captivating. The author, Jenetta L. Penner, does a nice job bringing book one to a saisfactory closing but also sets the reader up, looking forward to book two. This book could appeal to both male and female audiences who enjoy an emotionally-paced dystopian novel. Book two was just published in July 2017 so there is already one more book to look forward to reading.
Content Analysis:
Profanity/Language: None
Violence/Gore: Teen girl defaces building with a weapon, authorities detain her, she passes out, head hits cement; bomb explodes, 2 killed, no blood or gore; man stalks woman, creepy; woman has night mares of being dropped into a burning building; act of terrorism, 12 killed, 5 injured, no details; man grabs woman by the arms hard enough to hurt her; people beaten & imprisoned as enemies of the state, brief descriptions of wounds; woman sentenced to death as a traitor; several people put to death as traitors, no gory details; people shot at; man shot out of sky and killed; woman taken captive; man and woman held captive & beaten, some description of wounds; bad guys bomb woman, her parents and friend; woman left to die of wounds; lots of people shot at; some people die from bombing, brief description of dead bodies.
Sex/Nudity: Girl tells another she was raped by a superior, no details; woman takes clothing off to take a shower, no details; woman kisses man on cheeck and is falling in love with him.
Mature Subject Matter:
Death of a young family member, parental disappearance, medical ethics, rape, revolutionaries, bombs, terrorism, uncaring parents, mandatory adoption, governmental corruption, socio-political problems.
Alcohol / Drug Use:
People take anxiety medications on a regular basis.
Reviewed By Beth