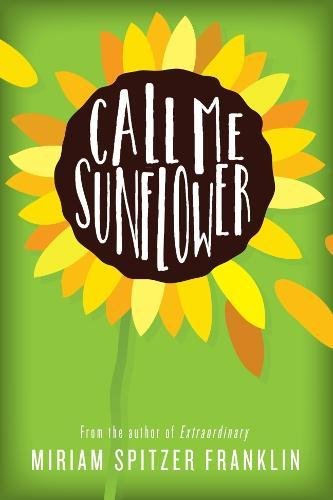 Publisher's Note:
Sunny Beringer hates her first name—her real first name—Sunflower. And she hates that her mom has suddenly left behind her dad, Scott, and uprooted their family miles away from New Jersey to North Carolina just so she can pursue some fancy degree. Sunny has to live with a grandmother she barely knows, and she's had to leave her beloved cat and all her friends behind. And no one else seems to think anything is wrong.

So she creates "Sunny Beringer's Totally Awesome Plan for Romance"—a list of sure-fire ways to make her mom and Scott fall madly in love again, including:

Send Mom flowers from a "Secret Admirer" to make Scott jealous and make him regret letting them move so far away.
Make a playlist of Scott's favorite love songs—the mushier the better—and make sure it's always playing in the car.
Ask them about the good old days when they first fell in love.
But while working on a photo album guaranteed to make Mom change her mind and rush them right back home, Sunny discovers a photo—one that changes everything.

Sunny's family, the people she thought she could trust most in the world, have been keeping an enormous secret from her. And she'll have to reconcile her family's past and present, or she'll lose everything about their future.
This book was sent to Compass Book Ratings for review by Sky Pony Press
Call Me Sunflower
by Miriam Spitzer Franklin
Overall Review:
Sunny's world is turned upside down when her mother decides to move her and sister from New Jersey to North Carolina. Now she must leave behind everything she knows: her dad, friends, and cat, to go live with the grandmother she barely knows. In North Carolina Sunny puts together several plans to reunite her family and reclaim the life she knows, but, will she succeed or will she simply drive a wedge between herself and everyone in her life?
With her second foray into middle grade fiction, author Miriam Spitzer Franklin dazzles readers. Call Me Sunflower is a beautiful and poignant tale of family and rediscovery. Sunflower, Sunny for short, has found herself on unstable ground for the first time in her life. Already living with a grandparent she doesn't know in a different state then her father, who's never officially adopted her, Sunny is already struggling, but when she finds out a secret about her family it uproots her already shaky foundation completely.
Once again Spitzer Franklin proves to have a gift for perfectly capturing the struggle of a young protagonist in the face of some rather grown-up issues. Sunny's desperate attempts to find a way to get back to the life she had is the realistic and very relatable portrayal of a young girl caught in the consequences of her own actions and unable to find the way out. Delivered with a strong authenticity, readers cannot help but see themselves in Sunny and experience everything with her. Call Me Sunflower is a must read that offers something to readers of any age.
Content Analysis:
Profanity/Language: None
Violence/Gore: Girl wants to shake man; character gets scratches picking flowers; many references to harm and death of animals in relation to the fur industry; reference to possible parental death; character hits finger with hammer; several references to man's death; character bites finger; animal attacked by dogs, sustains serious injuries.
Sex/Nudity: None
Mature Subject Matter:
Adoption, animal rights, family.
Alcohol / Drug Use:
None
Reviewed By Amberle