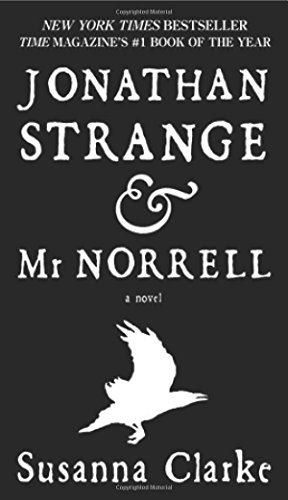 Publisher's Note:
At the dawn of the nineteenth century, two very different magicians emerge to change England's history. In the year 1806, with the Napoleonic Wars raging on land and sea, most people believe magic to be long dead in England-until the reclusive Mr Norrell reveals his powers, and becomes a celebrity overnight.
Soon, another practicing magician comes forth: the young, handsome, and daring Jonathan Strange. He becomes Norrell's student, and they join forces in the war against France. But Strange is increasingly drawn to the wildest, most perilous forms of magic, straining his partnership with Norrell, and putting at risk everything else he holds dear.
Time Magazine #1 Book of the Year « Book Sense Book of the Year « People Top Ten Books of the Year « Winner of the Hugo Award « A New York Times Notable Book of the Year « Salon.com Top Ten of 2004 «Winner of the World Fantasy Award « Nancy Pearl's Top 12 Books of 2004 «Washington Post Book World's Best of 2004 « Christian Science Monitor Best Fiction 2004 « San Francisco Chronicle Best Books of 2004 « Winner of the Locus Award for Best First Novel « Chicago Tribune Best of 2004 « Seattle Times 25 Best Books of 2004 « Atlanta Journal-Constitution Top 12 Books of 2004 « Village Voice "Top Shelf" « Raleigh News & Observer Best of 2004 « Rocky Mountain News critics' favorites of 2004 « Kansas City Star 100 Newsworthy Books of 2004 « Fort Worth Star-Telegram 10 Best Books of 2004 « Hartford Courant Best Books of 2004
Jonathan Strange & Mr Norrell
by Susanna Clarke
Overall Review:
Jonathan Strange & Mr. Norrell is a unique book. Although it starts slow and has odd spellings, its subtle, unique brand of humor is refreshing, and the story becomes quite engaging about halfway through.
Set in 19th century England, it tells of two English magicians – Jonathan Strange and Mr. Norrell – who seek to change the face of English magic. Mr. Norrell, who is overly cautious and ill-natured, continuously clashes with his lively and adventurous pupil, Jonathan Strange. As they try to revive magic in England, they go from taking on small tasks to managing potentially catastrophic situations. They are also confronted with the legend of the ancient magician, the Raven King, a shadowy figure who shaped English magic. Their adventures take unexpected twists and turns, and the stakes keep rising with each chapter as all they know and hold dear are gradually drawn into a vortex of sinister magic.
In its finer portions, Jonathan Strange & Mr. Norrell will have you holding your breath. It is clear that a lot of research went into the writing, and Susanna Clarke does a good job of weaving fact and fiction together along with archaic language.
This book is funny, intriguing, and unpredictable; although it is much too long and could have used a few hundred less pages. All in all, it is an entertaining read.
Content Analysis:
Profanity/Language: 2 religious exclamations; 3 mild obscenities; 1 derogatory names.
Violence/Gore: Many scenes involve magical deeds and battles; several reports of death and violence; a few scenes of injury, gore, loss of body parts and corpses; a few scenes of morbid sights; a few scenes implying violence; magic is used to summon the dead and manipulate corpses; a few scenes of threats and planned violence; a few extended scenes of war; animals are killed; animals attack humans; a character turns feral; a few descriptions of violent dreams and visions; a child is killed in a terrible fall; a few detailed scenes of murder.
Sex/Nudity: Report of a woman attacked while partially dressed; a character kisses another's hand; vague account of women scantily clad; naked corpses of soldiers are gathered; 2 references to a woman's body parts; characters kiss in 2 scenes; vague report of a woman who poses nude for statues; a character dances naked in a non-explicit scene.
Mature Subject Matter:
Magic, war, few reports of kidnap and slavery of children and adults, racial prejudice (typical of the period), murder.
Alcohol / Drug Use:
A few scenes of tobacco, alcohol, and drug use.
Reviewed By Olamide