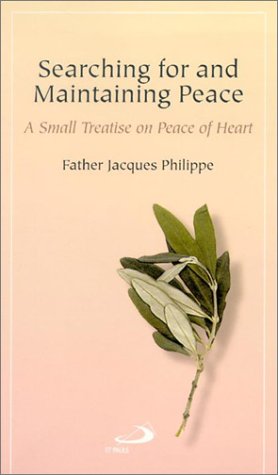 Publisher's Note:
We live in an age characterized by agitation and lack of peace. This tendency manifests itself in our spiritual as well as our secular life. In our search for God and holiness, in our service to our neighbor, a kind of restlessness and anxiety take the place of the confidence and peace which ought to be ours. What must we do to overcome the moments of fear and distress which assail us? How can we learn to place all our confidence in God and abandon ourselves into his loving care? This is what is taught in this simple, yet profound little treatise on peace of head. Taking concrete examples from our everyday life, the author invites us to respond in a Gospel fashion to the upsetting situations we must all confront. Since peace of heart is a pure gift of God, it is something we should seek, pursue and ask him for without cease. This book is here to help us in that pursuit.
Searching for and Maintaining Peace: A Small Treatise on Peace of Heart
by Jacques Philippe
Overall Review:
Jacques Phillipe is like a kind grandpa that has sage counsel for every little problem. His writing is simple, piercing, and insightful, and this book is no exception. Searching for and Maintaining Peace explains, in very simple language and practical steps, how to maintain peace and look to God through whatever turbulence life may bring, and avoid drowning in the nagging little worries of everyday life. This is a pleasant surprise in a world filled with watery self-help books. It is firmly rooted in Catholic Christian teaching, but anyone will find this book useful as it carefully shows how to let go of tension, anxiety, and the need to be in control of everything. Though short, when read slowly and meditatively, it gently coaxes you into picking up healthier habits and starting a journey to a more peaceful existence – a journey to the peace that lasts…the peace that 'surpasses all understanding'. Jacques Phillipe is fast becoming my favorite author, and this book is my favorite yet.
Content Analysis:
Profanity/Language: None
Violence/Gore: None
Sex/Nudity: None
Mature Subject Matter:
None
Alcohol / Drug Use:
None
Reviewed By Olamide