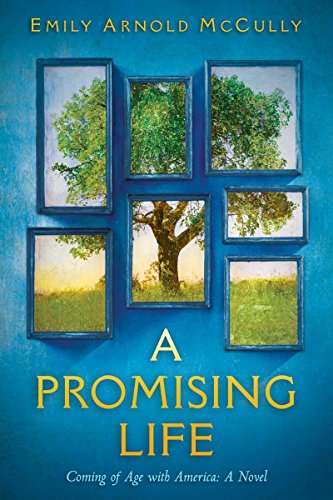 Publisher's Note:
For as long as he can remember, Jean Baptiste Charbonneau has been told that a promising future lies ahead of him. After all, his mother is the great Sacagawea, who accompanied Lewis and Clark on their expedition of discovery. And thanks to his mother, Baptiste's life changes forever when Captain Clark offers him an education in the bustling new city of St. Louis.
There, his mother charges him to "learn everything" - reading, writing, languages, mathematics. His life becomes a whirl of new experiences: lessons, duels, dances, elections. He makes friends and undertakes unexpected journeys to far-off places.
But he also witnesses the injustices Clark, as a US agent for Indian Affairs, forces upon the Osage, the Arikara, the Mandan, and so many others. He sees the effect of what some call "progress" on the land and on the people who have lived there for generations. And he must choose what path he will take and what place he will have in a rapidly changing society.
This book was sent to Compass Book Ratings for review by Scholastic
A Promising Life
by Emily Arnold Mccully
Overall Review:
Many are aware of the story of Sakakawea (Sacagawea) and her role in the Lewis and Clark Expedition but not much is known about what became of her famous baby, Jean Baptiste Charbonneau, who joined them for that journey. Baptiste left very little record of his life so Emily Arnold McCully took the little history that we have from him and used her imagination to fill in the blanks. A Promising Life is a wonderful piece of historical fiction that helps us learn about that period of time while entertaining us in the process. McCully stays true to the language of the time period so it may be a bit difficult to understand occasionally but keep a dictionary handy and it will be worth your time. She even includes a "Cast of Characters" at the end which is really helpful to refer to if you aren't able to keep names straight but also helps you know which characters are historical and which are fictitious. You'll enjoy watching Baptiste grow and mature and the assortment of characters he meets along the way who contribute to his rich, full life. That's not to say that he's handed everything and never experiences hardships or diversities because there are plenty of those. Historical fiction fans, especially those who enjoy stories from the Colonial time period will love A Promising Life.
Content Analysis:
Profanity/Language: 3 religious exclamations; 1 mild obscenity; one scatological word in French.
Violence/Gore: Many (39) brief incidents including character play punches another; verbal threats; character says another ought to be hanged; character hears gunfire; reference to buffalo dying; reference to earthquake causing death; second-hand report of scalping and city set afire; young child's parent dies; reference to slave receiving 50 lashes; talk of war and young boys pretending to battle; several references to many dying in war; several references to hunting; second-hand report that horses were whipped & kicked; second-hand report of stabbing; reference to guillotine; reference to suicide; second-hand report of men shot at a camp; character has scalp with hair on it for his collection; reference to characters being at gunpoint to pay taxes; reference to murder, rape & kidnapping; second-hand reports of characters dying; reference to character getting beat for poaching; reference to woman being beat by husband; young characters fight; hunting; character threatened with gun; character scratched for immunization; man shot at, gun misfired then beat with a cane; man killed in duel.
Sex/Nudity: Many (25) incidents of adult characters (unless specified) including characters walking arm in arm; men holding women; flirting; teen characters dancing; suggestion that teen will have wife and girlfriend some day; characters touched face; head on shoulder and arm around; reference to polygamy; character not married and pregnant; suggestion that man has two wives; male characters talk of getting pinched in the "nether regions" from leather pants shrinking; character offered to sleep with girls; dancing; reference to making babies; reference to affairs; innuendo; reference to character having sex with new wife; reference to rape (just mentioned); references to orgies; a few incidents of implied sex.
Mature Subject Matter:
Slavery, racism, gambling, underage drinking, fornication.
Alcohol / Drug Use:
Several references to adult characters drinking and getting drunk; several incidents of adult characters smoking; character offering child alcohol; young boys are given alcohol; children smoking pipe; adult characters smoking or taking snuff after dinner.
Reviewed By Jenny