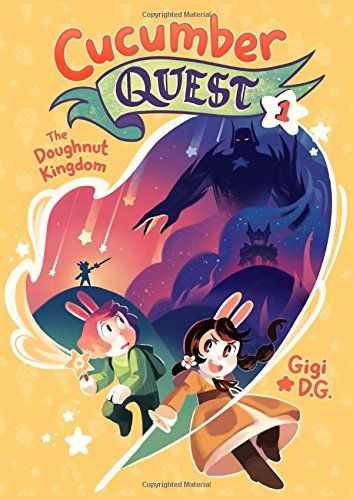 Publisher's Note:
What happens when an evil queen gets her hands on an ancient force of destruction?
World domination, obviously.
The seven kingdoms of Dreamside need a legendary hero. Instead, they'll have to settle for Cucumber, a nerdy magician who just wants to go to school. As destiny would have it, he and his way more heroic sister, Almond, must now seek the Dream Sword, the only weapon powerful enough to defeat Queen Cordelia's Nightmare Knight.
Can these bunny siblings really save the world in its darkest hour?
Sure, why not?
Adapted from the popular webcomic series, Cucumber Quest, The Doughnut Kingdom is the first graphic novel of a clever, adorable, and hilarious four-volume heroic adventure that is sure to make you hungry for sweets and action.
This book was sent to Compass Book Ratings for review by First Second Books
Cucumber Quest (The Doughnut Kingdom)
by Gigi D.G.
Overall Review:
This was a really cute little graphic novel to read. It's full of sass and humor with bright illustrations, and it gently makes fun of the heroic quest troupe.
The main character is Cucumber, a boy who is about to go away to school for the Magically Gifted and/or Incredibly Wealthy, but his plans are foiled when his father commands him to become the new Legendary Hero and defeat a wicked queen plotting world domination. Joined by his much fiercer younger sister, Almond, and the vanquished knight, Sir Carrot, Cucumber reluctantly accepts his destiny and embarks upon a journey to find the Legendary Dream Sword and defeat the Nightmare Knight of old.
With a cliffhanger ending, Cucumber Quest: The Doughnut Kingdom is a quick-to-read graphic novel sure to have readers wanting more.
Content Analysis:
Profanity/Language: None
Violence/Gore: A character plots world domination; a character writes a warning letter to his family; a character is forced into a heroic quest; characters bully a kid; characters sometimes argue and insult each other; a character is pictured in a dungeon; a young character is threatened and attacked by armed personnel; a character gets knocked down by another; characters are warned about monsters in a forest; characters are confronted by a monster; a legendary article is stolen by an evil character's henchman; a character is in danger of being turned into stone; a villain threatens her minions; characters resurrect an ancient evil; report of ships being attacked by a giant creature; characters are attacked by a creature; a character is captured; a character is knocked out.
Sex/Nudity: A man thinks fondly of a woman; a man flirts with a woman; a woman thinks wistfully about a man.
Mature Subject Matter:
World domination, impending doom, controlling father.
Alcohol / Drug Use:
A villain is pictured with a glass of wine.
Reviewed By Katrina