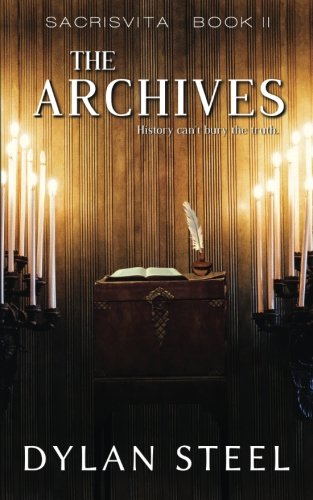 Publisher's Note:
Unlike her classmates, Sage Indarra doesn't want to be a model student at the Institution. But it's the only way to survive.
Despite her best efforts, her guise of normalcy is threatened when she gets into a fight at the beginning of the year, bringing down the wrath of the Institution and consequences that could haunt her for the rest of her life—however short that might be.
But they never would have punished her if they'd known where it would lead.
In the depths of the Archives, Sage makes a discovery that could threaten the very fabric of Eprah's society. If anyone finds out what she knows, she'll have to make an impossible choice to prove her loyalty.
The Archives: Book 2 Sacrisvita Series
by Dylan Steel
Overall Review:
Set in a dystopian world, this story line is believable, yet also reminiscent of a creepy, communist country. Book one, The Institution, set the reader up with a good foundation and book two picks up where book one ended. It sucks the reader in from the beginning and leaves the reader wanting more. The fast-paced setting easily keeps the reader engaged. At a mere 182 pages, the length is more of a novella than a full-length book and just as the storyline gets going, BAAM!, it's done. Thankfully, there are twelve books in the series that are already published, which is a good thing because the author leaves the reader hungry at the end of this book. Talk about wishing for more! Perhaps it would be good to get all twelve books before starting the series so there is no waiting from one book to the next.
As the story progresses in The Archives, it's good to see Sage grow and build friendships. Set in a culture that believes heavily in consequences, Sage continues to learn to play "the game." Slipping up comes with expensive costs but Sage has a way of bouncing back and not only learning from them but using them to her advantage. Sage does get a couple of "wins" under her belt in this book. Book three is definitely a must as the saga marches forward.
Content Analysis:
Profanity/Language: None
Violence/Gore: Fist fights between two girls; students learn Krav Maga style fighting, very physical, some blood; students live in constant fear of punishment.
Sex/Nudity: None
Mature Subject Matter:
Social Conflicts, oppressive government, fighting.
Alcohol / Drug Use:
None
Reviewed By Beth