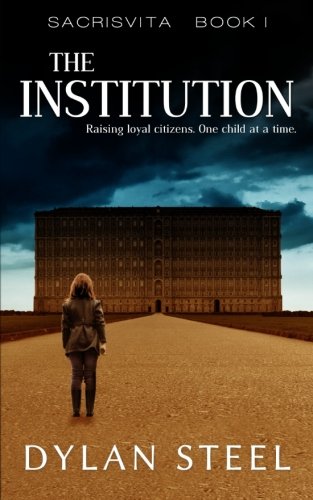 Publisher's Note:
Sage Indarra's childhood is forever changed when tragedy strikes and she's forced to enroll in Eprah's Institution—a cold, unfeeling place determined to make her forget everything good about her old life.
It doesn't take long for Sage to learn that her new home is not as perfect as they would have her believe.
Unsure who to trust, she's forced to build her new life on a lie. And she begins to question everything she's ever known.
She has to play along if she has any hope of escaping.
But the Institution is hiding some dark secrets. And they won't let her leave.
Can Sage keep up the ruse she's begun?
The Institution: Book 1 Sacrisvita Series
by Dylan Steel
Overall Review:
The main character in The Institution is a young girl who at first seems to act her age (around seven), yet when she is taken to the institution, she is forced to mature very quickly and realizes she must play "the game" or suffer the consequences. In the storyline, Sage Indarra acts more like a 12 to 15-year old making this more of a young adult book than a middle grade book. Set in a dystopian time, the author has done a good job of creating characters that have enough depth to help the reader become a tad emotionally attached. The story is engaging and flows quickly, keeping the reader turning the pages hoping for the best for our young protagonist. Filling these pages are your typical kids next door or your local school students. They are relatable and range from naughty to nice. This book has me looking forward to the next in the series.
At 158 pages long, this book is short yet satisfying. The author, Dylan Steel, has produced an ending that brings the action to a good conclusion and sets the reader up so they look forward to reading the next. There are 12 books in this series so if you enjoy this one, there are many more to look forward to.
Content Analysis:
Profanity/Language: None
Violence/Gore: Parents killed; death of unborn baby; child dragged away by police; student kept in solitary confinement for 2 extended time periods; students do a skit where a child is killed for stealing food, no blood; student is a constant bully; students participate in a Krav Maga type competitions, physically abusive but no blood.
Sex/Nudity: None
Mature Subject Matter:
Social & political ethics, death of parents & unborn child, children raised in socialistic institution, bully, social "justice", police "state".
Alcohol / Drug Use:
A serum injected in all citizens to physically control them.
Reviewed By Beth