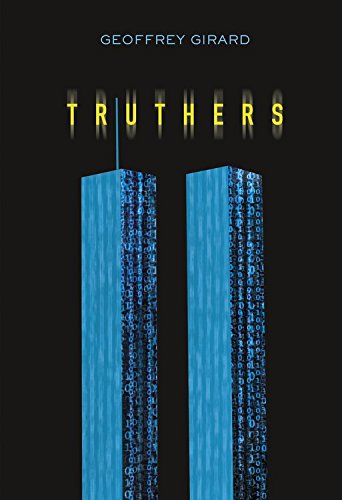 Publisher's Note:
Katie Wallace has never given much thought to 9/11. She was only a year old when terrorists struck American soil. But now her dad has landed in a mental institution after claiming to know what really happened. He insists the attacks were part of a government conspiracy. And he claims that Katie is living proof: the lone survivor of a massive cover-up. Hoping to free her dad, Katie sets out to investigate his bizarre claims. Soon she's drawn into the strange and secretive world of 9/11 conspiracy theorists known as the Truthers. What is fact and what is fiction? Katie no longer knows what to believe.
This book was sent to Compass Book Ratings for review by Carolrhoda Lab
Truthers
by Geoffrey Girard
Overall Review:
Whether you're a conspiracy aficionado or just someone who likes a good cerebral book, Truthers will meet your needs on all levels. Girard brings an inquisitive sense of mystery to a book about a girl, her dad (maybe), and the events surrounding 9/11. With poignant moments of defining who one is in the larger world and what defines family, this book is a great conversation starter.
Katie is a high school junior facing tough decisions. From whether to believe her father, a man who is suffering from severe PTSD and often is not functional, to dealing with foster care dynamics to determining if the story largely accepted regarding 9/11 really is true, she must rely on herself and new friends to forge a new path.
Some may be offended by the topic of this book. The plot deals with whether or not the events of 9/11 were caused by terrorists or caused by a conspiracy within the US government, a shadow government or ancillary contractors. The topic is a tough one. Girard does a masterful job of using research and subtlety to develop the plot line and his characters. The book is a work of fiction, keep that in mind, but it is a great conversation piece that is extremely relevant in how and why we obtain our "facts" the way we obtain them and what we choose to believe.
Beyond the political themes, the book is really well written. The story moves quickly and keeps you guessing about who are the good guys, who are the bad guys, and who are somewhere in between. This book is smart, sassy, and a thrill ride from page one.
I would highly recommend this book to youth and adults alike. Adults may find the topic harder to read, depending on your 9/11 experiences, but for an audience that largely wasn't alive when the inspired events occur, a great dialogue will be opened.
Content Analysis:
Profanity/Language: 26 religious exclamations; 61 mild obscenities; 6 religious profanities; 6 derogatory names; 74 scatological words; 22 anatomical terms; 1 offensive hand gesture; 21 f-word derivatives.
Violence/Gore: 4 verbal threats of bodily harm or death; report of man shattering another man's nose; girl hurls dodgeball at boy's head; adult grabs teen's wrist tightly; self-inflicted deep flesh wound to man's arm; references to deaths in 9/11 terror attacks; girl grabbed from behind and dragged to alley; scary face peeping in window; dead cat's body sent to girl in box; girl kidnapped; head bangs against window without injury; girl jerks steering wheel during kidnap attempt and crashes vehicle; attempted murder of man via carbon monoxide poisoning made to look like suicide; man abducted and zip tied to chair; reports of people's deaths being made to look like suicides.
Sex and Nudity: Girl kisses boy on cheek, girl and boy kiss twice.
Mature Subject Matter:
Suicide, mental disorders, abandonment, addictions, computer hacking and war.
Alcohol / Drug Use:
Adult man uses marijuana, alcohol and reference to other drugs; teens drink and smoke marijuana at prom party.
Reviewed By Beckie