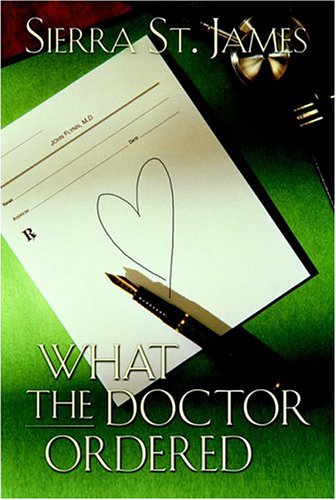 Publisher's Note:
They've never been out on a date. They can barely speak a civil word to each other when they find themselves in the same room. But Aunt Bertie, who is not crazy, just -eccentric- knows that John and Ellie belong together, and she's doing all she can to further their cause. When Ellie comes to Colton Idaho, to spend the summer with Aunt Bertie and prove to her parents that her aunt doesn't belong in an assisted-care facility, the confusion begins. Bertie's determination to marry Ellie off to Dr. John Flynn leads to a hilarious string of miscommunications in this delightful romantic comedy.
What The Doctor Ordered
by Sierra St. James
Overall Review:
What the Doctor Ordered is a hilarious, yet impactful book. Ellie's attempts to prove her aunt's sanity send her closer to the edge of being branded as such herself.
Will her wacky nature keep her aunt out of a nursing home or only end up producing hilarious scenes between her and a certain doctor? Love in the air is exactly what the doctor ordered, only how could he have ordered it if he is still licking the wounds of a previous divorce? The characters come alive in a way unique to the writing of Sierra St. James. This is a must read for LDS romance lovers and those who could just use a good laugh every now and then.

Content Analysis:
Profanity/Language: None
Violence/Gore: None
Sex/Nudity: a character is informed of a pregnancy; a doctor remembers diagnosing a patient with breast cancer (no details are provided); an old woman remarks on how naked she feels in a hospital gown; a couple kisses to demonstrate their love.
Mature Subject Matter:
Unwanted pregnancy; terminal illness; death; religious content.
Alcohol / Drug Use:
None
Reviewed By Megan