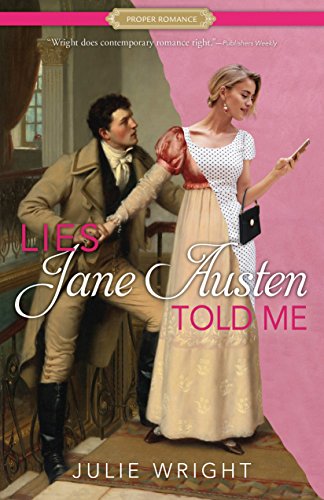 Publisher's Note:
Ever since Emma read Pride and Prejudice, she's been in love with Mr. Darcy and has regarded Jane Austen as the expert on all things romantic. So naturally when Emma falls for Blake Hampton and he invites her home to meet his parents, she is positive an engagement is in her future. After all, Blake is a single man in possession of a good fortune, and thus must be in want of a wife.

But when it turns out that what Blake actually wants is more of a hook-up than a honeymoon, Emma is hurt, betrayed, and furious. She throws herself deeper into her work as CMO of Kinetics, the fastest growing gym franchise in the nation. She loves her work, and she's good at it, which is why she bristles when her boss brings in a consultant to help her spearhead the new facilities on the East Coast. Her frustration turns to shock when that consultant turns out to be Blake's younger brother, Lucas.

Emma is determined not to fall for Lucas, but as she gets to know him, she realizes that Lucas is nothing like his brother. He is kind and attentive and spends his time and money caring for the less fortunate.

What she can't understand is why Lucas continues to try to push her back into Blake's arms when he so clearly has fallen as hard for her as she has fallen for him.

Realizing that her love life is as complicated as anything Jane Austen could have dreamed up, Emma must find a way to let Blake know that it's time for him to let her go and to let Lucas know it's time for him to love her back.
This book was sent to Compass Book Ratings for review by Shadow Mountain
Lies Jane Austen Told Me
by Julie Wright
Overall Review:
Lies Jane Austen Told Me is a fantastic addition to Shadow Mountain's Proper Romance line. Set in the present day United States, the story is fresh, entertaining, and sprinkled with lots of cultural references. Although main heroine Emma is a flawed and complex character, readers will appreciate her spirit, grit, and determination. Emma's best friend Silvia is a breath of fresh air, and her tangible chemistry with leading man Lucas is an added bonus! Author Julie Wright includes lots of inner dialogue, so it's easy to understand Emma's motivations and point of view. Jane Austen fans will rejoice in the frequent mention of the famous author and her illustrious works. Wright cleverly includes several of Austen's characters and book themes into the story. Lies Jane Austen Told Me is a charming and fun read--perfect for snuggling up with this winter.
Review of an Advance Reader Copy
Content Analysis:
Profanity/Language: None
Violence/Gore: A secondhand report of a fender bender and car explosion; a character slaps another.
Sex/Nudity: Several incidents of kissing; a few sexual references.
Mature Subject Matter:
Abandonment, work/life balance, mention of drug use and drug dealing, homelessness, single parenting, foster care, prison.
Alcohol / Drug Use:
Several discussions describing a secondary character who uses and deals drugs; a car driver smokes in a brief scene.
Reviewed By Rachel