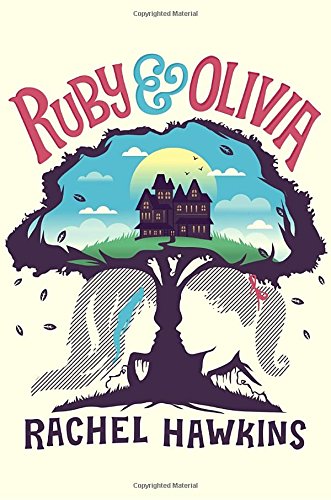 Publisher's Note:
A spooky middle-grade story that's full of fun, friendship, and humor--perfect for fans of Ingrid Law and Lisa Graff.
Ruby is bold and opinionated, while Olivia has always been respectful and well behaved. But Olivia's good-girl image is tarnished when she takes the fall for her twin sister's misdeed. And now Olivia is stuck with Ruby all summer—at a community service day camp for troublemakers.
To kick off the spirit of service, the campers are tasked with cataloging the contents of Live Oaks, a historic mansion in their town. Sorting through objects in an old house sounds boring, and working together is the last thing the girls want to do, but the stuff is actually kind of cool. There's everything from mink stoles to golf clubs to antique dolls . . . and . . . wait . . . is that doll watching them?
It isn't long until little tricks—like mysterious music playing, doors slamming, and shadows rising—start to spook the girls. They'd like to think the other campers are pranking them, but they soon realize that this empty mansion might not be uninhabited after all. To solve the mystery at Live Oaks, Ruby and Olivia will have to put their old grudges aside and figure out how to be a team.
This gently creepy middle-grade story is full of all the heart, humor, and authenticity that make Rachel Hawkins a favorite with kids and teachers alike.
This book was sent to Compass Book Ratings for review by G.P. Putnam's Sons Books for Young Readers
Ruby and Olivia
by Rachel Hawkins
Overall Review:
Ruby and Olivia by Rachel Hawkins is a delightfully spooky novel that is one part mystery novel, one part a novel about self-discovery, and one part a novel about friendship. As an identical twin, Olivia always sees herself as one half of a whole, until suddenly her twin sister doesn't want to be just another half but wants to be her own person. This has thrown Olivia into somewhat of a tail-spin, leaving her floundering and wondering exactly who she is. Ruby on the other hand hasn't been able to figure out who she is now that her grandmother is no longer around. She had been the rock in Ruby's life and now that she has passed away Ruby is left floundering as well. Both Ruby and Olivia end up at a summer camp that is more like the summer version of detention. Being thrown together gives them a chance to work out past differences and build a friendship that runs deep.
The mystery part of the novel (I won't say too much because I don't want to spoil it for anyone) is the driving force of the novel that brings Olivia and Ruby together and forces them to work out their differences. With a little paranormal activity thrown in, the events and circumstances of the mystery make this novel spooky, yet not too much so. All of it ended with a twist that even I did not see coming, so the mystery part was just as satisfying as the feelings and emotions felt as both Olivia and Ruby work through the past and come together to solve the mystery. Ruby and Olivia really is a lovely novel that has enough spookiness and mystery to keep you turning the pages.
Review of an Advance Uncorrected Galley
Content Analysis:
Profanity/Language: None
Violence/Gore: Character admits to having hit someone with a lunch tray; character gets bit by a ghost; mention of injuries caused by a supposedly cursed tree; characters experience several paranormal events such as hearing voices and getting locked into a room (5 different experiences); characters are attacked by a possessed tree; story told of how 2 girls die from smoke inhalation from a fire possibly set maliciously by another person.
Sex/Nudity: 2 married adults hold hands.
Mature Subject Matter:
Death, paranormal activity.
Alcohol / Drug Use:
None
Reviewed By Sally