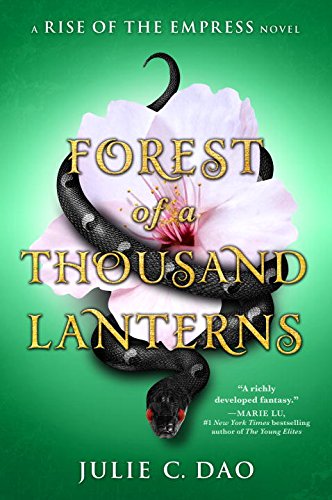 Publisher's Note:
Eighteen-year-old Xifeng is beautiful. The stars say she is destined for greatness, that she is meant to be Empress of Feng Lu. But only if she embraces the darkness within her.
Growing up as a peasant in a forgotten village on the edge of the map, Xifeng longs to fulfill the destiny promised to her by her cruel aunt, the witch Guma, who has read the cards and seen glimmers of Xifeng's majestic future. But is the price of the throne too high? Because in order to achieve greatness, she must spurn the young man who loves her and exploit the callous magic that runs through her veins--sorcery fueled by eating the hearts of the recently killed. For the god who has sent her on this journey will not be satisfied until his power is absolute.
Set in an East Asian-inspired fantasy world filled with both breathtaking pain and beauty, Forest of a Thousand Lanterns possesses all the hallmarks of masterful fantasy: dazzling magic, heartbreaking romance, and a world that hangs in the balance. Fans of Heartless, Stealing Snow, and Red Queen will devour this stunning debut.
This book was sent to Compass Book Ratings for review by Philomel
Forest of a Thousand Lanterns
by Julie C Dao
Overall Review:
Julie Dao's debut novel is one not to be forgotten. The intricate story of a girl rising from obscurity into the most powerful position in the kingdom is well told and a thrill to read.
Xifeng is a brilliantly crafted character. Dao's physical description of her perfectly brought to the mind's eye exactly what this beauty looks like. The crafting of her internal struggles between the good and evil parts of her own soul was also outstanding. It flowed so easily throughout the story that you barely realized it was inner monologue.
I think what really puts this novel over the top is the attention to detail. Pagodas and private gardens, palaces and ancestral family home--all are so well depicted I felt like I was literally staring right at them. At the same time, the details are crafted into the narrative in a way that I didn't feel I was reading page after page of setting description.
The book moves along at a pretty good clip and I did feel that the final 5-10 chapters were a smidgen rushed. At the same time, the ending of the book perfectly set the stage for a sequel and there is so much left to tell in the story of Xifeng that I think a series is sure to come.
Overall a great for anyone who loves fantasy and oriental mythology. Fans of authors like Victoria Aveyard and Stephanie Meyer will find an author here to add to their favorites list.
Review of an Advance Reading Copy
Content Analysis:
Profanity/Language: 1 mild obscenity; 6 derogatory names.
Violence and Gore: Reference to mother's suicide; description of being caned; woman slaps teen in head; finger sliced to release blood for ritual; fall and hits head knocking unconscious; dream of girls legs being snapped and crushed in an alligator trap; 5 verbal threats of death or bodily harm; beaten with a wooden cane; 2 page graphic depiction of killing animals, snapping their necks and eating their hearts; during 4 page battle body is sliced in half with graphic blood, beheading, and graphic blood and gore; festering wound is depicted; women kicks, punches and claws another woman; slaps to face; whipping of woman; bloody face is seen in nightmare; short depiction of eating animal's heart; 2 page graphic depiction of stabbing a woman to death, carving out her heart and eating it; woman inflicts bloody scrapes and scratches to self; woman is poisoned (does not die); half page depiction of woman eating another woman's heart.
Sex and Nudity: Hand-holding and kissing multiple times; reference to concubines and the acts they perform; male nudity from chest up; adults have sex with no graphic detail; multiple instances of joking and discussing sex without graphic detail; naked women are depicted getting in or out of baths three times; girl is stripped naked to be whipped; hands groping over body while kissing.
Mature Subject Matter:
Death of child/family members /friends, war, suicide, mental disorders, marriage infidelity, murder.
Alcohol / Drug Use:
Adults drink wine at celebrations.
Reviewed By Beckie