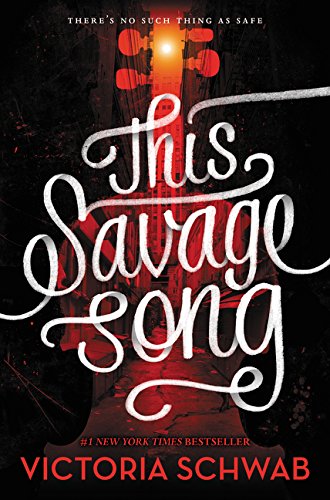 Publisher's Note:
There's no such thing as safe in a city at war, a city overrun with monsters. In this dark urban fantasy from acclaimed author Victoria Schwab, a young woman and a young man must choose whether to become heroes or villains—and friends or enemies—with the future of their home at stake. The first of two books, This Savage Song is a must-have for fans of Holly Black, Maggie Stiefvater, and Laini Taylor.
Kate Harker and August Flynn are the heirs to a divided city—a city where the violence has begun to breed actual monsters. All Kate wants is to be as ruthless as her father, who lets the monsters roam free and makes the humans pay for his protection. All August wants is to be human, as good-hearted as his own father, to play a bigger role in protecting the innocent—but he's one of the monsters. One who can steal a soul with a simple strain of music. When the chance arises to keep an eye on Kate, who's just been kicked out of her sixth boarding school and returned home, August jumps at it. But Kate discovers August's secret, and after a failed assassination attempt the pair must flee for their lives. In This Savage Song, Victoria Schwab creates a gritty, seething metropolis, one worthy of being compared to Gotham and to the four versions of London in her critically acclaimed fantasy for adults, A Darker Shade of Magic. Her heroes will face monsters intent on destroying them from every side—including the monsters within.
This Savage Song (Monsters of Verity #1)
by Victoria Schwab
Overall Review:
A supernatural tale that is spine-tingling fun! YA author Victoria Schwab spins a story about good and evil that will make you want to crossover to the dark side.
Alternating third person perspective follows our main protagonists, August and Kate. These two are formidable opposites. August is a monster who is compassionate and wants to be human; Kate is a human who tries to bury her humanity and craves to be just as cold-blooded as her kingpin father. What could bring these characters together to become allies? You have to read it to believe it.
This soul-sucking (in the best possible way!) novel grips you from the beginning and just doesn't let up as it absorbs your whole attention for the formidable duration. There are no fever pitches here, only a steady stream of enthralling events and character development. Strangely original, the author creates a unique concept and leads it to all the right places. Monsters born out of violent acts? That sounds grim. It is, but not in the bleak sense; instead, it's colorful, lucid, and actively engaging. The only gripe I think readers will have about this saga is that it came with more of a backstory, because the author's portrayal and description of the characters', their lives, and their environment is captivating and compelling. If you are expecting a romance, take a hike. This book is all about the main storyline and doesn't get sidetracked by the usual YA tropes. With a shocking ending that leaves an ample amount of open space for the second novel in this duology to truly ascend, readers, be prepared to get your minds blown.
This Savage Song may be my first Victoria Schwab book, but it definitely won't be my last!
Content Analysis:
Profanity/Language: 10 Religious exclamations; 24 mild obscenities; 4 derogatory names; 10 scatological words; 4 anatomical terms; 5 F-word derivatives.
Violence/Gore: Report of character injuring a classmate; teen plans on destroying a religious building; extended scene (about 1 page) teen burns down a chapel; reports of teen character vandalizing and stealing; teen is arrested; implication of fantasy creatures eating humans; mention of character's injuries which were sustained as a child; accounts throughout book about war, bloodshed, and death; various brief reports and implication/threats of violence; remark made of character's family having been murdered; mention of character's minor injury during an altercation which left a scar; few (less than 10) accounts of humorous violent actions, or jokes; mention of crime; report of property destruction with mass casualties; extended scene (about 1 ½ pages) character watches violent images on an electronic device; character is threatened and shoved; rumors that teen character's mother was mentally unstable/suicidal; extended scene (about 2 pages) character threatens another character with a weapon, grabs them roughly; teen character pulls out a weapon with the intent to use it; character witness a violent act(s); extended scene (about ½ page) fantasy creature grabs character in a violent threatening manner; throughout the story scary descriptions of violent fantasy creatures, what they look like, and how they attack and murder humans; extended scene (about 1 page) torturous death sentence given; extended scene (about 1 page) violent fantasy creature issues threats; report of violent fantasy creature killing family; extended gory scene teen kills fantasy creature; extended scene (about 1 page)individual admits to robbing and killing; fantasy creature kills human(s) in a non-violent manner (about 3x); report of violent uprising; extended scene (about 1 page) teen has memory as a child of their parent driving into oncoming traffic and watching them die; teen accidentally injures an adult in a defense class (mildly humorous); extended gory scene (about 1 page) character's injuries are described; report of ambush attack; report of suspect killing an officer before being arrested; prisoner is injured; report of crime; fantasy creatures break into a residence with the intent to hurt it's occupants; extended gory scene (about 2 pages) fantasy creature torture and kill 2 humans; teen witnesses a violent image; extended scene (about 1 page) fantasy creature reports getting into a fight with another fantasy creature, injuries mentioned; teen discovers a mutilated body (2x); character tries fighting off violent fantasy creature; extended scene (about 1 page) fantasy creature hold down character and threaten them with mutilation; extended gory scene (about 3 pages) characters fight off fantasy creatures, injuries incurred; character abducts and tie up other characters; violent threat with weapon; non-detailed scene of violent death; extended creepy scene (about 1 page) characters are chased by violent fantasy creatures; extended scene (about 1 page) character reports their their violent past; gory description of character's injuries; extended gory scene (about 3 pages) violent fighting; report of mass murder/suicide; extended scene (about 4 pages) violent fight with weapons; character receives a bullet wound; implication that character's father beat his wife; extended scene (about 1 page) memory of violent car crash; few brief news reports of violence; extended gory scene (about 2 pages) attack with accidental death; violent fantasy creatures injures and abducts characters; extended gory scene (about 4 pages) capture threatens, tortures, injures character; captured character injures themselves attempting to escape; implication of attack and death; fantasy creature kill another fantasy creature (gore); implication of death.
Sex/Nudity: Character witnesses couple kiss; few brief sexual references; character has a picture of his/her parents kissing; male and female remove their shirts (non-sexual); brief pretend romance.
Mature Subject Matter:
Violent crimes/criminal activity/criminal enterprise, war/anarchy/tyranny, murder.
Alcohol / Drug Use:
A few alcohol/drug references; teen character smokes a few times; adult smokes; adult offers teen prescription drugs; residence smells of cigarette smoke and alcohol.
Reviewed By MaryLou