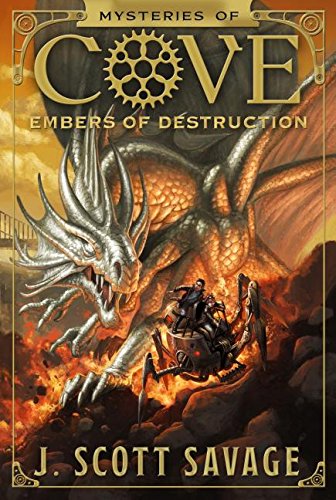 Publisher's Note:
It's time to take the battle to the dragons.

In the third and final volume of the bestselling Mysteries of Cove series, Trenton and Kallista--along with their friends, Plucky, Simoni, Angus, and Clyde--fly their mechanical dragons south toward San Francisco, looking to rescue any survivors from the battle of Seattle.

Arriving in San Francisco and investigating the area in secret, the young riders are reunited with Kallista's father, Leo Babbage, who reveals that the humans in the city are working as slaves to the dragons, but that they don't want to be rescued--himself included. He says they are being protected by their new master: a huge, powerful white dragon who lives in an impenetrable tower fortress overlooking the city. Kallista is stunned by the news. Why would her father ever willingly want to work for dragons?

Trenton and his friends are confronted by the guards and their mechanical dragons are seized. Evading capture, the young riders escape and begin looking for a way to break the white dragon's hold over the city--and over Leo. Working with the kids from the city, the young riders track down the source of the dragon's power to an underground chamber that is accessible only through an underwater passageway below the tower fortress.

With the white dragon watching their every move, Trenton and Kallista will need every bit of creativity and ingenuity they can manage to find a way to retrieve their stolen dragons, enter the tower fortress, and take down the dragons once and for all.
This book was sent to Compass Book Ratings for review by Shadow Mountain
Mysteries of Cove: Embers of Destruction
by J. Scott Savage
Overall Review:
Trenton and Kallista have been through a lot together in their quest to find Kallista's father and a way to defeat the dragons that terrorize the world. And now they have four friends and two new dragons to help. But can they learn to work together before it's too late? And are they prepared to make the sacrifices it will take to be successful?
Author J Scott Savage delivers a finale that does not disappoint in Mysteries of Cove: Embers of Destruction, the third and final book in the Mysteries of Cove trilogy. Throughout the series Savage has proven himself adept at taking on complex concepts and presenting them in an easily digestible way for younger readers and Embers of Destruction in is no exception. While still as full of action as the previous books, Savage also changes the game and ups the stakes of our young heroes in a riveting way and at the same time presents interesting internal conflicts within the group. Embers of Destruction is a brilliant conclusion to a remarkable series that will leave fans both satisfied and wishing for more.
Content Analysis:
Profanity/Language: None
Violence/Gore: Many references to and scenes depicting battle against dragons, some extended; many references to the destruction dragons cause (past, present and future), some extended; many threats of violence; girl jabs boy; girl throws wrench at boy; girl destroys tree; references to people slaughtering animals; children nearly captured; children receive various minor injuries; boy recalls being tortured; children cased by guards and giant lizards; girl handled roughly by adult; girl hits head; boy witness giant lizard eat a wild cat; boy clubed by overseer; boy beats man; children worry about being executed; group falls on stairs; discussion about evolution based on violence; boy tells group they will be killed if they leave; references to occurances from previous books; boy warns other boy of machine dangers; reference to levels of "justice"; boy nearly suffocates; girl punches wall; children throw smoke bomb at guards; references to a woman's death; boy and girl tumbled by underground river; children plan an explosion; girl nearly drowns; boy camofluages dragons and people to look damaged and injured; boy pushes girl off dragon; character dies in explosion; girl smacks boy on back.
Sex/Nudity: Girl kisses boy on the cheek; boy pats girls shoulder; several instances of a boy huging a girl; a few instances of a girl and boy holding hands.
Mature Subject Matter:
Slavery, friendship, sacrifice, leadership, responsibility.
Alcohol / Drug Use:
None
Reviewed By Amberle