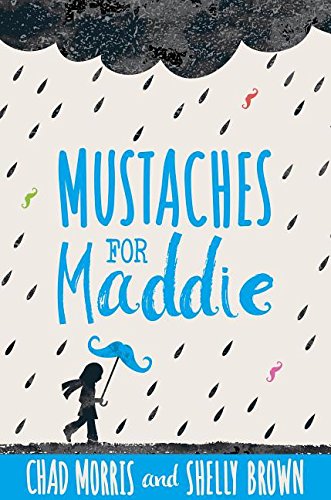 Publisher's Note:
Based on a true story,
Twelve-year-old Maddie has a quirky sense of humor and loves making her classmates laugh by slapping on fake mustaches every chance she gets. Being funny gets her noticed by class queen Cassie, and things are looking up when Maddie is cast as Juliet in the school play. Maybe Juliet could wear a mustache?
When Maddie starts tripping when she walks and her hand starts curling up at her side, her mom takes her to the doctor, who confirms Maddie has a brain tumor. In an instant, her world is turned upside down.
Maddie does not want anyone else to know. Especially Cassie, whose jealousy has turned to bullying. What about Maddie's chance to play Juliet opposite the cutest boy in the sixth grade? What if the doctors can t get the ugly tumor monster out of her brain?
As Maddie s surgery approaches, she wonders if her illness is giving her super powers because her imagination is bigger than ever, her courage is stronger than ever, and her compassion is about to be felt by more people than she ever imagined.
This book was sent to Compass Book Ratings for review by Shadow Mountain
Mustaches for Maddie
by Chad Morris and Shelly Brown
Overall Review:
Mustaches for Maddie follows the experiences of a young girl with an active imagination as she battles the biggest struggle of her life - a brain tumor. Although the subject matter is heavy, this book is not. The seriousness of the situation is offset by Maddie's strong sense of self and her ability to conquer obstacles through her imagination. Most of her humor is slapstick and court jester-like in nature, which makes for a fun read.
This book does an excellent job of describing medical procedures in an accurate, yet non-threatening way. Some of the procedures include: getting shots, MRI, surgeries, being alone for some procedures, fears and feelings of being seriously ill, etc.
Throughout the book Maddie also deals with the issues a typical twelve-year-old would face: social pressures, relational aggression on the playground/classroom, the struggle between right and wrong, discovery of self, new crushes, etc.
Maddie is a very engaging character that is easy to fall in love with. She is quirky and different, and yet down-to-earth and relatable. This book is ideal for a wide range of readers including anyone going through a hard time - medical or otherwise. However, it is also good for those who are on the outside, who may want to help someone going through a hard time. There are discussion questions at the end of the book, which are great for group discussion, book clubs, or even one to one.
Content Analysis:
Profanity/Language: None
Violence/Gore: Nearly all instances of violence are imaginative in nature, including: break cars with pinky; bust freeway with head; punch him into the Pacific Ocean; burp bombs and sneeze lasers - lasers going everywhere; play on words referring to audition - if completely choked would be dead; barrage of fire from beast would have burned us; threat of creature smashing with curly spiked tail; thoughts of potential death; tumor referred to as monster waiting to attack; practice Kung-Fu - fake punching people; got bit by raging sea monster; giant killer whale going to bite toes; monster tumor gotten bigger with spike like ax blades; head squish like potato being mashed from dino sitting on head; been in monster's jaws and survived; 30 seconds until we all blow up into teeny tiny pieces; acting in a play - drank poison and died; author of play wanted her to kill self with dagger; pretend film of actor pointing arrow and heart and misses then dagger to actors heart; description of monster - boulders and houses flying.
Other violence includes: not liking the idea of killing animals; needle prick felt like getting stabbed in the hand with a small sword; trash talking - must have hit your head; side effects/risks of brain surgery on tumor; death of Romeo; death of Juliet; wondering if dying; thinking someone wanted her to die; knowledge that she could have died; description of surgery - cutting lip, cutting stomach; description of surgery - cutting through skull.
Sex/Nudity: Minors hands touched while transferring object; minors hug; minor puts arm around minor; minors hug.
Mature Subject Matter:
Childhood illnesses, relational aggression, divorce.
Alcohol / Drug Use:
None
Reviewed By Lacey