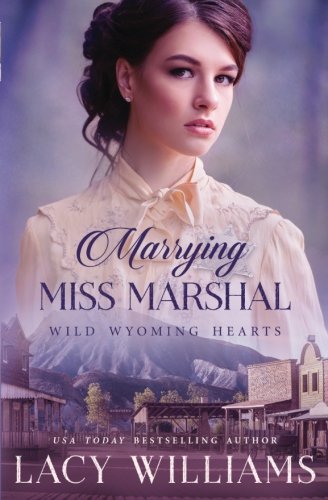 Publisher's Note:
"I'm all right, Chas." ?Her quiet words stopped his erratic movements but not the frantic beat of his heart. Before he could think, he leaned in and took her mouth in a kiss. Lacy Williams is a USA Today bestselling author of the acclaimed Wyoming Legacy and Cowboy Fairytales series. About MARRYING MISS MARSHAL: She's no lady... Danna Carpenter is town marshal. And a darn good one. Even if she has to handle saloon brawls and rustlers alone. Who needs deputies anyway? All right, she'd welcome the help if any of the men in town would offer it. When a bank robbery goes bad, she has no choice but to accept the help of a city slicker... He's on a quest for revenge. Chas O'Grady came West in search of cattle rustlers and found himself on the trail of a killer--one who took everything from him. Crossing paths with the pretty marshal was happenstance, but he can't leave her deputy-less when she's facing such grave danger. Everything changes when Chas and Danna are stranded together in a snowstorm. The town council forces a marriage. And attraction turns to something more... Will Chas give up his quest for revenge? Or will he lose the woman he loves forever? MARRYING MISS MARSHAL is a Wild West marriage of convenience story.
Marrying Miss Marshal
by Lacy Williams
Overall Review:
Looking for a laid back, easy read? Marrying Miss Marshall might be the book for you. This story is set in the Wild West where anything can happen. The main character is a strong woman who seeks justice for her town in a time when women aren't encouraged to step outside their defined roles. Danna learns from a young age what it means to fight for what she believes in. Being a widow has made things a bit more difficult but her faith in God and her determination to be a woman of integrity carry her through challenges she never dreamed she'd face. Chas, the other main character, is a man overcoming his own past. Revenge and guilt are eating him up from the inside out and he has to learn to forgive. Together, Chas and Danna make an unlikely team and a wonderful romance forms between them. The author, Lacy Williams, has done a fantastic job writing a story that flows well and gives the imagination room to play. It was also nice to see that even the bad guys didn't all fit the "norm." They weren't all stinky characters who needed to brush their teeth and bathe. Even "cleaned up" people can have diabolically deceptive motives. The setting was well described and it felt like the author was well acquainted with the location of the story. The pacing moved quickly and kept the reader engaged. There are four books in this series and the author has written at least 33 books so if you like this one, there are many more to enjoy.
Content Analysis:
Profanity/Language: None
Violence/Gore: Character almost run over & killed; character falls & hurts self; saloon fights, knives, guns, fists; mention of previous murders of family; husband disappears and found murdered; bank robbed, fights, character shot, lots of blood, character knocked out, some description but not gory; character falls off her horse, knocked out & winded; gun fight, character shot, blood, no gory details; character shot, minor wound, some blood; woman taken hostage, left to die; 2 characters mortally shot; man tries to strangle woman.
Sex/Nudity: Multiple mentions of man & woman attracted to each other; malicious rumors about woman entertaining men in her room; man kisses woman several times, no details; man & woman cuddle in storm to keep alive, no inappropriate touching; mention of a husband knowing his wife intimately, no details; woman accused of immorality and forced to marry man; mention of "womanly monthly time".
Mature Subject Matter:
Political & business ethics, abandonment, gambling, murder of family members, robbery/thieving, saloons, cattle rustling.
Alcohol / Drug Use:
Implied adults drinking in saloons and getting drunk.
Reviewed By Beth