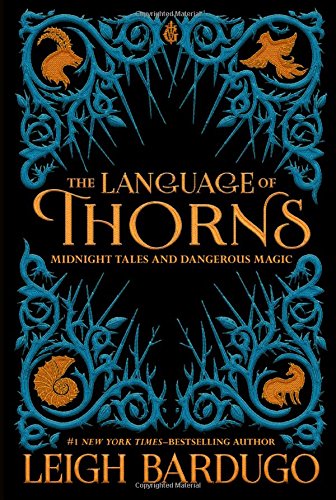 Publisher's Note:
Inspired by myth, fairy tale, and folklore, #1 New York Times-bestselling author Leigh Bardugo has crafted a deliciously atmospheric collection of short stories filled with betrayals, revenge, sacrifice, and love.
Enter the Grishaverse...
Love speaks in flowers. Truth requires thorns.
Travel to a world of dark bargains struck by moonlight, of haunted towns and hungry woods, of talking beasts and gingerbread golems, where a young mermaid's voice can summon deadly storms and where a river might do a lovestruck boy's bidding but only for a terrible price.
Perfect for new readers and dedicated fans, the tales in The Language of Thorns will transport you to lands both familiar and strange?to a fully realized world of dangerous magic that millions have visited through the novels of the Grishaverse.
This collection of six stories includes three brand-new tales, each of them lavishly illustrated and culminating in stunning full-spread illustrations as rich in detail as the stories themselves.
The Language of Thorns: Midnight Tales and Dangerous Magic (The Grisha)
by Leigh Bardugo
Overall Review:
First and foremost, let's talk about this cover! If you've read any of author Leigh Bardugo's books in the past you know they're fashioned beautifully inside and out, articulated with attention to detail, The Language of Thorns: Midnight Tales and Dangerous Magic is no different. If you're going to purchase this book, do so in the hardcover version so you can enjoy it as an art piece after reading it. Stunningly attractive, it is embossed with gold foil and embroidered with blue textural designs. Inside, the pages are filled with rustic illustrations that are just as enchanting. The intricate art within the pages and how they correspond with the stories are superb. I cannot emphasize enough how visually appealing this book is.
But what about the writing? This book contains six short stories that take place within the "Grishaverse," a world Bardugo created in her Shadow and Bone series, but you in no way need to have read that series to enjoy this book. For those who are already fans and have previously read the Shadow and Bone or the Six of Crows series, you will undoubtedly fall even more in love with this fantastical environment. A throwback to true original fairy tales, (you know, before Disney got involved), the author plays slight homage to Hans Christian Anderson and the Grimm brothers' work with her constructed folklore. As with classic fables, these stories are ominous, at times disturbing, and entangle moral messages inside that suggest all is not as it seems.
Dark and alluring, this is a fun book to be read aloud, but not directed towards young children (please see content analysis below). To be enjoyed for late nights and campfire tales, but beware, there are thorns hidden among the flowers.
Content Analysis:
Profanity/Language: None
Violence/Gore: Report of animals dying from extreme heat; mention of beast(s) eating soldiers (2x); report of war; villagers feel threatened by beast; reports of savage slayings of herd animals; father hunts his son; minor injury mentioned; threat of murder (about 5x); crowd pinches young girl; brief report of mother who her killed her babies; father orders character to kill his son; animal mother eats her young; animal is threatened; animal is caught in a trap, is injured; animals fear a hunter; hunter begins to remove animal's pelt while it's still alive; bird pecks out character's eyes; a few threats of death; man is described as an obscene and violent individual; character throws a rock at an individual (mildly humorous); accidental injury; character roughly pulls another character's hair; character kills an animal for food; extended creepy scene (about 1 page) character is chased; character cuts off their fingers for magical ritual; extended scene (about 1 page) father molests a fantasy creature which he believes is his daughter (non-graphic, but disturbing); discovery that father is a serial rapist and murderer of young girls; mention of individual being whipped; report of duels and deaths; comment of physical fight; few implications of violence; report of ship's crew and passengers being lost at sea; father gets drunk and smashes objects; attempted kidnapping; figurines enact murder scenes; memory of battle; fantasy violence with the mention of blood; rodents attack an individual; fantasy magic with violent undertones; fantasy creatures cut themselves in magical ritual; threatening warning; extended scene (about 1 page) fantasy creatures kill a young boy, cut out his organs (minor gore); character is severely burned and injured from magic; character plans to kill themselves.
Sex/Nudity: Brief child birth scene; few brief sexual references; animal births cubs; character flirts with a widower; extended scene (about ½ page) daughter hears step mother and father making sexual sounds; extended scene (about 1 page) father molests a fantasy creature which he believes is his daughter (non-graphic, but disturbing); discovery that father is a serial rapist and murderer of young girls; men are infatuated with young woman's beauty; mention of woman's breasts (non-sexual); couple is married; a few mentions of infidelities within marriages and illegitimate children; a few reports of flirting; man makes designs on a 12-year-old girl to make her fall in love with him when she's older so they can marry; fantasy male creature kisses both male and female humans; rumors of a romantic tryst gone array; report of kiss (2x); joke of nudity; fantasy creature hopes to find a human lover; female fantasy creature notices her nude body; male is flirtatious; extended scene (about ½ page) mention of sexual desires; report of fantasy creatures taking human sexual partners; implication of homosexual behavior.
Mature Subject Matter:
Magic, murder, molestation, infidelity within marriage resulting in an illegitimate child(ren).
Alcohol / Drug Use:
Adults and animals drink alcohol; sleeping herb is used (2x); mentions of drunk adults; report of adults frequenting taverns; adult smells of tobacco.
Reviewed By MaryLou