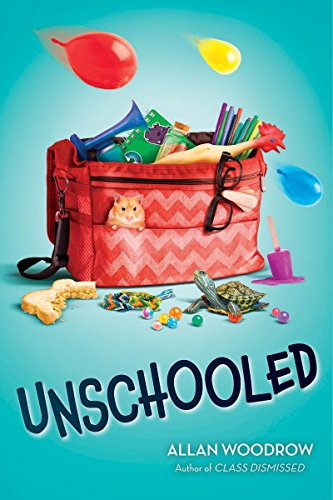 Publisher's Note:
This year's fifth graders are the worst Principal Klein has ever seen. But he's hoping that Spirit Week can teach them teamwork, with a top secret prize for the winning team as incentive.

Best friends George and Lilly have been looking forward to Spirit Week all year. They might be complete opposites, but they can't wait to be on the winning team together. When their classes end up rivals, with Lilly leading Team Red and George leading Team Blue, the friends swear they can compete and remain best friends.
But suddenly there are slimed lockers, sabotaged costumes, and class pets held hostage. As the pranks escalate, it threatens everything, including the prize. Because if Principal Klein finds out, Spirit Week will be cancelled and the students will spend the rest of the year in detention.

Can George and Lilly find a way to fix their friendship and get the entire fifth grade to play fair, or is the most awesome week of fifth grade about to make this the worst school year ever?
This book was sent to Compass Book Ratings for review by Scholastic Press (A Scholastic Imprint)
Unschooled
by Allan Woodrow
Overall Review:
George and Lilly have been best friends forever. They have also looked forward to competing side by side in their school's Spirit Week: a special week-long competition reserved only for the fifth grade. But through a twist of fate they end up being captains of opposing teams with competitive feelings and foul play threating to ruin not only Spirit Week but their friendship as well.
Unschooled by Allan Woodrow is a fast, fun tale of friendship and fair play. Each chapter switches between the viewpoints of our two protagonists, George and Lilly. Doing this gives the reader not only a chance to get to know and like each character well but the author uses it as the perfect mechanism for illustrating that there are two sides to every conflict. Full of humorous accidents, hilarious high-jinx, and plenty of misunderstandings Unschooled is a beautiful lesson in sportsman ship cloaked in comedy.
Content Analysis:
Profanity/Language: None
Violence/Gore: Girl steps on other girl's foot; character breaks arm; girl trips a few times; character has food dumped on him; many pranks (slime dumped in lockers, food dropped on students, etc.); boy slaps other boy on back; children throw water balloons filled with pudding; reference to student possibly being eaten; boys shove other boys; many outlandish ideas on how competitions can be sabotaged; class pets stolen and mildly vandalized; girl offers to throw banana peel at boys feet; character runs into table; reference to boy's broken foot; characters slip and fall.
Sex/Nudity: Boy and girl squeeze each other's shoulders.
Mature Subject Matter:
Sportsmanship, cheating, friendship, peer pressure.
Alcohol / Drug Use:
None
Reviewed By Amberle