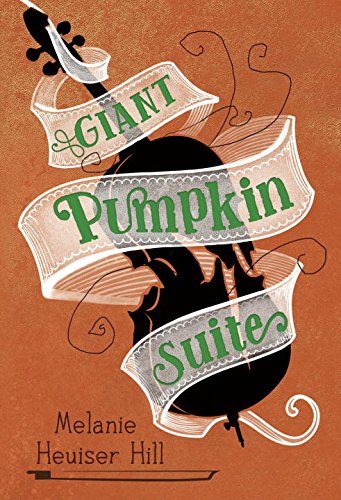 Publisher's Note:
Who are you, if you can't be what you always expected? A moving coming-of-age tale of prodigy and community, unlikely friendship and growing things.

Twelve-year-old Rose Brutigan has grown seven inches in the last eight months. She's always been different from her twin brother, Thomas, but now she towers over him in too many ways. The gap in their interests continues to widen as well. Musical talent Rose is focused on winning the upcoming Bach Cello Suites Competition, while happy-go-lucky Thomas has taken up the challenge of growing a giant pumpkin in the yard of their elderly neighbor, Mr. Pickering. But when a serious accident changes the course of the summer, Rose is forced to grow and change in ways she never could have imagined. Along the way there's tap dancing and classic musicals, mail-order worms and neighborhood-sourced compost, fresh-squeezed lemonade, the Minnesota State Fair — and an eclectic cast of local characters that readers will fall in love with.
This book was sent to Compass Book Ratings for review by Candlewick Press
Giant Pumpkin Suite
by Melanie Heusier Hill
Overall Review:
Giant Pumpkin Suite follows the journey of a quirky, math obsessed, perfectionist girl whose life revolves around her cello and Bach suites. The story goes through, in great detail, what Rose is experiencing when she has the music and when she loses it and the impact it has on her. The author has an ability to write in a way that you can hear that music and it is fun to experience.
This story is also a story of community. Rose is surrounded by so much diversity in her community. The characters range from African American, Japanese, Latino, Russian, and homosexual. They all work together to support one another in day-to-day life as well as in major events and projects. The reader is able to experience so much culture as well from the Bach Suites, to American Musicals, to a Japanese Tea Ceremony, to the art of kintsugi, to tap dancing, to a State Fair. There are parallels to Charlotte's Web, Rose's favorite book, throughout the story as well. While Rose is experiencing all of this culture and community there is the story of the giant pumpkin she is reluctantly growing with her twin brother.
If I could pick a theme for this book it would be: "when something breaks, it can become even more beautiful through being mended." (pg. 294). This book should resonate well with readers who like characters who go through a struggle and feel big feelings. The reader will be going along for the journey, no matter what turns it may take.
Content Analysis:
Profanity/Language: 1 religious exclamation; 1 anatomical term.
Violence/Gore: An elderly man falls down the stairs resulting in injuries; report of a snow blower accident resulting in scarred hands; report of table saw injuries; minor accidentally knocked an adult over with a cello; report of Amazonian women maiming captured men; report of Amazonian women cutting off left breast to improve shooting with bow an arrows; minor stating she would cut off her left breast if it meant she would be able to play the cello better; table saw accident involving splattering of blood and description of injury - extended incident; 2 references to persons who had died; blood from a split injury.
Sex/Nudity: Adult rests bosoms on the desk two times; a homosexual couple with a baby are members of the community.
Mature Subject Matter:
Parental incarceration (reference), white collar crimes, conmen.
Alcohol / Drug Use:
None
Reviewed By Lacey