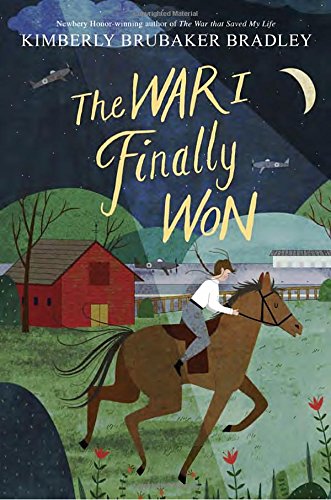 Publisher's Note:
Like the classic heroines of Sarah, Plain and Tall and Little Women, Ada conquers the homefront as her World War II journey continues in this sequel to the Newbery Honor–winning The War that Saved My Life

When Ada's clubfoot is surgically fixed at last, she knows for certain that she's not what her mother said she was—damaged, deranged, crippled mentally as well as physically. She's not a daughter anymore, either. Who is she now?

World War II rages on, and Ada and her brother, Jamie, move with their guardian, Susan, into a cottage with the iron-faced Lady Thorton and her daughter, Maggie. Life in the crowded home is tense. Then Ruth moves in. Ruth, a Jewish girl, from Germany. A German? Could Ruth be a spy?

As the fallout from war intensifies, calamity creeps closer, and life during wartime grows even more complicated. Who will Ada decide to be? How can she keep fighting? And who will she struggle to save?

Ada's first story, The War that Saved My Life, was a #1 New York Times bestseller and won a Newbery Honor, the Schneider Family Book Award, and the Josette Frank Award, in addition to appearing on multiple best-of-the-year lists. This second masterwork of historical fiction continues Ada's journey of family, faith, and identity, showing us that real freedom is not just the ability to choose, but the courage to make the right choice.
This book was sent to Compass Book Ratings for review by Dial Books for Young Readers
The War I Finally Won
by Kimberly Brubaker Bradley
Overall Review:
The War I Finally Won is the much anticipated sequel to the award winning, middle grade, historical fiction novel The War That Saved My Life by author Kimberly Brubaker Bradley. Basically picking up where the first novel left off (it is highly advised you read that first), 11-year-old Ada is about to have her life completely changed, for better and for worse (at least in her eyes). As Ada's foot heals from an operation to fix her clubfoot, the reader soon realizes that the mental and emotional healing is going to take a little longer for Ada, not to mention the fact that England is in the throes of WWII. She has had a lot to deal with in her short 11 years and has certainly come a long way in learning, growing, and opening up emotionally and by the end of this novel one can see just how far she has come.
The War I Finally Won includes Susan and Jamie from the first novel and brings them even closer together as the redefine what a family really is. As WWII rages on around them, they have to make sacrifices, deal with tragedy, and have their beliefs challenged. Some of the secondary characters from the first novel play a more important role in this one, which enlarges Ada's world and allows her to learn and grow and figure out her place in it all. Then just when she thinks she is settled and has things figured out, Ruth, a 16-year-old Jewish evacuee from Germany comes to live with them. This leads to beliefs being questioned, prejudices being addressed, and friendships being formed.
While The War I Finally Won is undoubtedly a historical fiction novel, it is also a wonderful novel on learning compassion, looking beyond ourselves, and realizing that not everyone is what they seem. Kimberly Brubaker Bradley has given us another heart-warming story of love, friendship, and hope.
Review of an Advance Reading Copy
Content Analysis:
Profanity/Language: 2 religious exclamations.
Violence/Gore: Character remembers being forced and locked into a small closet; secondhand account of someone having died in a bombing; secondhand account of someone's family having died in a bombing; account of character having fallen from a tree and broken their arm; mention of Hitler killing the Jewish people in Germany; character dies in the war; character receives news of someone they knew having died in a concentration camp; character lives through a bombing of their village; characters see the burned remains of a pilot in a crashed airplane (no description given).
Sex/Nudity: None
Mature Subject Matter:
War, prejudice, death, abuse, religious differences.
Alcohol / Drug Use:
Adults drink a pre-dinner alcoholic drink called an aperitif; girl mentions that she's had a sip of champagne before.
Reviewed By Sally