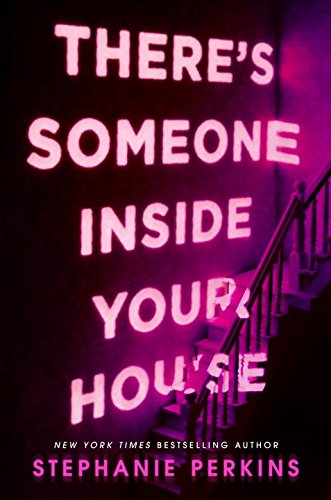 Publisher's Note:
One-by-one, the students of Osborne High are dying in a series of gruesome murders, each with increasing and grotesque flair. As the terror grows closer and the hunt intensifies for the killer, the dark secrets among them must finally be confronted.
International bestselling author Stephanie Perkins returns with a fresh take on the classic teen slasher story that's fun, quick-witted, and completely impossible to put down.
This book was sent to Compass Book Ratings for review by Dutton Books for Young Readers
There's Someone Inside Your House
by Stephanie Perkins
Overall Review:
I opened There's Someone Inside Your House thinking that the book would be a mystery thriller with a good plot line. What I got was on par with the most gruesome slasher films that have every been made.
Makani moves from Hawaii to Nebraska after an incident that for most of the book is alluded to, but never detailed. Late in the book when Makani does provide the details of the incident, it doesn't seem to fit with the implications made throughout the story about a killing. Although the author does do a decent job of keeping you guessing and wondering just what it was that Makani did to land her in rural Nebraska.
Ollie is your quintessential tragic kid story: parents killed in an accident, older brother comes home to step in, rebels for a period, hits rock bottom, becomes decent kid, but a loner, smart, responsible, etc. With the exception of some crazy pink hair dye, he really isn't all that interesting of a character.
A series of extremely graphic, extremely gruesome murders are committed throughout the book. As the police and students alike search for the murderer theories are tossed around, friendships are tested and forged, and in the end everything wraps up with a nice neat little bow. The end of the novel seemed like the author was trying to make a statement about leaving or staying home and to send a message, but it was completely lost in all the gore.
There's Someone Inside Your House should be reserved for older readers. Even adult readers will find themselves squeamish during murder scenes and may find the violence to graphic for their taste. I think this book was designed more for shock value then story value, but it certainly delivered on the shock scale.
Review of an Advance Reading Copy
Content Analysis:
Profanity/Language: 30 religious exclamations; 23 mild obscenities; 3 religious profanities; 25 derogatory names; 52 scatological words; 27 anatomical terms; 1 offensive hand gesture; 29 f-word derivatives.
Violence/Gore: Discussion of fake blood splatter; report of student's death; boys pushing and shoving; report of nose being cut off while someone was sleep walking; report of death in car accident; teens discuss knife wounds on murder victim in graphic detail (twice); six instances of 2-3 page extremely graphic murder scenes with stabbing, removal of organs, graphic depiction of wounds and blood, carving out of organs and carving of bodies; depiction of murder/mutilation of woman in video game; 2 page graphic scene of attempted murder with copious amounts of blood and non-fatal injuries; 9 page description of team hazing ritual resulting in almost drowning and girl cutting off another's hair; report of broken arm when pushed from bike; report of domestic violence; report of attempted suicide by drowning; extremely graphic description of mutilated body.
Sex/Nudity: Two references to having sex; talk of girl who lives as a boy; teens make out; teens have sex with no graphic detail twice; teens kiss four times; hands under shirts and clothing.
Mature Subject Matter:
Death, attempted suicide, divorce/separation, domestic violence, gender identity issues, murder.
Alcohol / Drug Use:
Teens drink alcohol, smoke and use marijuana.
Reviewed By Beckie