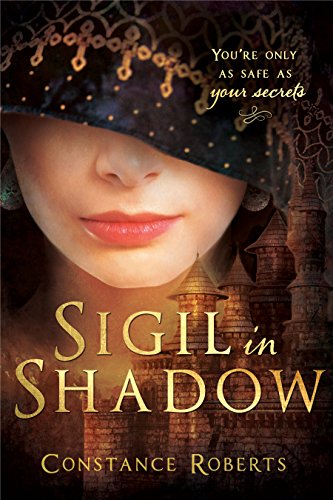 Publisher's Note:
One lie saved Ellary's life, but another may cause her to lose it. With just a few simple words, Ellary goes from poverty to nobility--and lands right in the middle of a society that will soon crumble under the weight of hierarchy. The only way to survive is to assume the role that she was never prepared for, or her future will rest at the of tip of a blade.
This book was sent to Compass Book Ratings for review by Sweetwater Books
Sigil in Shadow
by Constance Roberts
Overall Review:
Sigil in Shadow is a wonderful story that had me engrossed through its entirety. Being a story about royal family and their court, you instantly could predict there would be much conflict and duplicity--and your prediction would be correct. However, don't expect to anticipate all the issues that arise or how they conclude, as there are many surprises. You'll also find complicated relationships and romances to add to the suspense and further pull you into the plot. Author Constance Roberts provides beautiful and vivid descriptions that will make you feel as if you've been transported into the story. Her attention to detail is extensive, especially as she frequently mentions ingredients and their uses for potions and different remedies or other work done in the apothecary. Roberts presents a great variety and balance of characters, many of whom you expect you know perfectly and then they throw you off, doing something completely unexpected. There was a great deal of foreshadowing and often authors forget to satisfy them all with a conclusion, but Roberts did a great job of wrapping it all up nicely. Those who enjoy stories about royal families and complications at court will love Sigil in Shadow.
Content Analysis:
Profanity/Language: None
Violence/Gore: Several (20) brief incidents including character looks like a fresh corpse (live person); character left prison to be executed; second-hand reports of deaths of adults; second-hand report of death of baby; character references seeing a beheading; second-hand reports of characters twisting ankles; reference to war; second-hand report that snake bit cat (died) and character kills snake; drunk characters get in a fight; character hits another in the head and thinks causes death; attempted murders; poisoning; character hit; character cuts another with a knife which starts a fight.
Sex/Nudity: Many (27) brief incidents including flirting; kissing; hugging; holding hands; dancing; cuddling; touching face and arm; female character gets bathed by other female characters (non-sexual); character feels awkward, like being naked; innuendo; references to character having mistresses; character asks another to be his mistress; reference to starting a family.
Mature Subject Matter:
Gambling, attempted murder, death, war (mentioned).
Alcohol / Drug Use:
Characters are addicted to a drink; references to character frequently drinking and getting drunk; drinking wine at dinner; drinking at a party.
Reviewed By Jenny