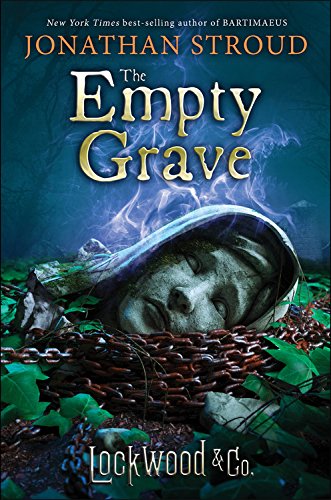 Publisher's Note:
Five months after the events in THE CREEPING SHADOW, we join Lockwood, Lucy, George, Holly, and their associate Quill Kipps on a perilous night mission: they have broken into the booby-trapped Fittes Mausoleum, where the body of the legendary psychic heroine Marissa Fittes lies. Or does it?
This is just one of the many questions to be answered in Book 5 of the Lockwood & Co. series. Will Lockwood ever reveal more about his family's past to Lucy? Will their trip to the Other Side leave Lucy and Lockwood forever changed? Will Penelope Fittes succeed in shutting down their agency forever? The young agents must survive attacks from foes both spectral and human before they can take on their greatest enemy in a climactic and chaotic battle. And to prevail they will have to rely on help from some surprising--and shadowy--allies.
Jonathan Stroud once again delivers a rousing adventure full of danger, laughs, twists, and frights. The revelations will send readers back to Book 1 to start the series all over again
The Empty Grave
by Jonathan Stroud
Overall Review:
It is with a bit of melancholy that this review of The Empty Grave is written. Jonathan Stroud has concluded his Lockwood & Co. with this fifth and final book. What a journey it has been. If you are thinking this book might be for you, you really must start with the first book of the series. There is so much to be understood and mercifully, Stroud does not bog this book down by rehashing all the details of the past four books.
Fans of this series will not be disappointed in this book. It ends much the same as previous books. The major conflict is resolved and the members of Lockwood & Co. return to their headquarters. The very things that kept readers coming back for more are here in this story-- the eerie uncertainties, the scary encounters with ghosts, the witty bantering between lead characters, and mysteries to be solved--all are packed into The Empty Grave.
Certain relationships are developed further and really give life to the story. One of my favorites is the Skull that Lucy carries around with her. His comments, although bordering on the macabre, are humorous and bring life to the story. It is difficult to say what happens without giving things away, but Stroud resolved enough questions for a satisfactory end to the series, but he left some things unsaid which allow readers to imagine the outcomes. An intense, action-filled and emotionally charged conclusion to a great series awaits eager readers.
Content Analysis:
Profanity/Language: 15 religious exclamations.
Violence/Gore: Report of a jug that poured blood; character wants to suck the flesh off of another's bones and use skin for a dance; character supposes another would stab himself with a knife; several scenes in which ghost attack living people, scenes go for several pages; report of a woman stabbed to death and blood pooling; report of a couple involved in a car accident resulting in a fire and ultimately death; report of women dying from hanging and drowning; report of blood flowing over the floor; report of a person killing another; fantasy violence in the form of salt bombs, iron powder, etc. which results in harm or death of ghosts; report of a person who was beaten dying; report that a person was beat up and bleeding; a few instances of characters threatening to kill other characters; characters involved in hand to hand combat as well as using weapons which cause injury, death and destruction of property such as crumbling walls, broken windows; report of a person who was stabbed dying; decimated bones of old corpses described; many intense scenes involving ghosts attempting to attack humans; report that characters were murdered.
Sex/Nudity: None
Mature Subject Matter:
Death of family, murder, paranormal activity.
Alcohol / Drug Use:
None
Reviewed By Susan