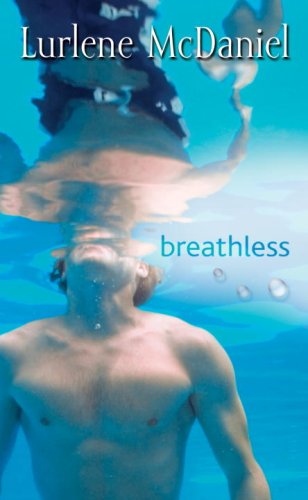 Publisher's Note:
What is the toughest request anyone can be asked to fulfill? Travis Morrison is a champion diver and one of the most popular kids at school. On the first day of summer vacation, while boating on the lake with his friends, Travis attempts a silly stunt dive that goes wrong. He fears he has broken his leg. Instead, his trip to the hospital reveals he has a rare form of cancer, and to save him, the doctors tell his parents they must amputate. In an instant, Travis's life and the lives of everyone around him are forever changed. Travis is determined that he and only he should decide the course of his life. He has a plan, but he can't carry it out alone. Will he convince one of his friends to fulfill his most important request?
Lurlene McDaniel tackles a controversial subject, probing the issues of personal choice and quality of life.
This book was sent to Compass Book Ratings for review by Delacorte Books
Breathless
by Lurlene McDaniel
Overall Review:
If you are in the mood for a light, fun, frivolous read, you might want to make a different book selection. If you are ready for something meatier and a bit painful, Breathless by Lurlene Daniel will deliver. The book clocks in with a mere 165 pages, but those pages are rich with difficult and mature themes and three-dimensional characters. Alternating characters and written from four, unique, first person points of view, the story follows four high school students over a two year period. The narrative never lags and the characters envelope you. Also, Daniels accomplishes a rare feat in literature--a somewhat undefined ending with enough information that the reader is able to satisfactorily resolve and bring closure to the story, even if he or she doesn't agree with it. Saturated with tough topics, but miraculously escaping a hopeless tone, it is an outstanding book club choice written with style. Breathless will haunt you long after you put it down.
Content Analysis:
Violence included the report of a character punching another student at school; two men slapping a woman and a character intervening by punching, pushing, and kicking until the men flee—description was brief; the report of the death of a character and a brief description of how it occurred.


No profanity was noted. A crude comment about a character's anatomy was made.


The overall tone of the sexual content was mild, brief in description, and not a point of focus in this book. Content noted was a following: two characters kiss; a character thinks about his girlfriend's anatomy/attractiveness; implied sexual activity when two characters "heat up the sheets"; one character admits to having sex as an eighth grader; implied sex between two characters (no details provided); two characters lie "skin against skin" while talking; implied prostitution by one character.
Mature Subject Matter:
Mature themes were plentiful and included the following: moral right and wrong; situational ethics; physical and emotional child and spouse abuse; risk-taking; faith and belief in God; alcoholism; self-esteem; terminal illness and medical implications/consequences; family tension/responsibility/pressure; hope; euthanasia; suicide; foreknowledge.
Alcohol / Drug Use:
Other content noted was a minor getting drunk and another character was an alcoholic.
Reviewed By Cindy