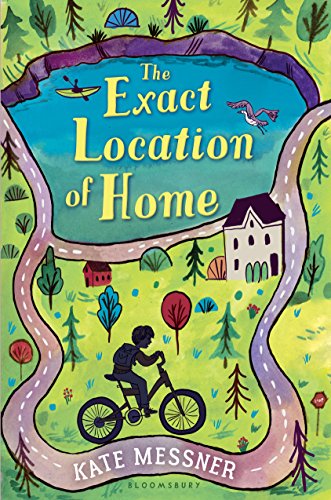 Publisher's Note:
Kirby "Zig" Zigonski lives for the world of simple circuits, light bulbs, buzzers, and motors. Electronics are, after all, much more predictable than most people--especially his father, who he hasn't seen in over a year. When his dad's latest visit is canceled with no explanation and his mom seems to be hiding something, Zig turns to his best friend Gianna and a new gizmo--a garage sale GPS unit--for help. Convinced that his dad is leaving clues around town to explain his absence, Zig sets out to find him. Following one clue after another, logging mile after mile, Zig soon discovers that people aren't always what they seem . . . and sometimes, there's more than one set of coordinates for home.
An important story of love and hope that will capture readers' hearts, The Exact Location of Home is another must read from beloved author Kate Messner.
This book was sent to Compass Book Ratings for review by Bloomsbury USA
The Exact Location of Home
by Kate Messner
Overall Review:
Unfortunately for Zig, life is a lot more complicated than fixing electronics. In this re-release of Kate Messner's The Exact Location of Home, she's takes a serious subject such as homelessness and makes it relatable and understandable for a younger age group. As Zig deals with his dad's abandonment, impending eviction from his home, and dealing with the school bully, Zig discovers the fascination of geocaching which gives him hope and something to look forward to each day. And hope is exactly what Zig needs.
The Exact Location of Home is the kind of novel that tugs at your heart as you realize that life isn't always easy for kids and life can be very complex for some. Messner brings up some serious issues like homelessness, living in a homeless shelter, and dealing with Alzheimer's. However, she manages to write in an underlying theme of hope and love and that home is really and truly where the heart is rather than an actual address.
Review of an Advance Uncorrected Proof
Content Analysis:
Profanity/Language: 1 religious exclamation.
Violence/Gore: Boy shoves another boy into a locker on 2 occasions; it's alluded to the fact that someone is being abused by her husband with a mention of bruised wrists and bruises on her cheek; man yells at child and pushes him into a wall; character almost falls 40 feet after a rotted ladder rung breaks.
Sex/Nudity: None
Mature Subject Matter:
Death, bullying, Alzheimer's, abuse, homelessness, abandonment by a parent.
Alcohol / Drug Use:
Someone says a homeless shelter is full of drunks.
Reviewed By Sally