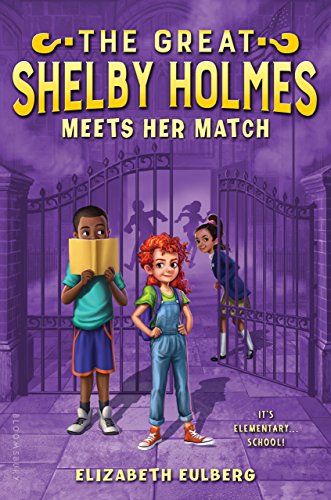 Publisher's Note:
The Great Shelby Holmes may have finally met her match in this humorous sequel to Elizabeth Eulberg's fresh twist on Sherlock Holmes.
Being friends with a super sleuth isn't easy, especially when she's nine years old and four feet tall, and full of attitude. But for eleven-year-old aspiring writer John Watson, being friends with Shelby Holmes is just the adventure he's looking for.
In the few weeks since moving to Harlem with his mom, Shelby has been training John in the art of observation-a skill that comes in handy on the first day of school. John's new teacher, Mr. Crosby, is acting suspiciously, and Shelby knows this is a mystery worth investigating. But as Shelby and John dig deeper, they discover that there may be someone unexpected involved--someone who may have Shelby beat.
This book was sent to Compass Book Ratings for review by Bloomsbury USA
The Great Shelby Holmes Meets Her Match
by Elizabeth Eulberg
Overall Review:
Pint-sized, super sleuth Shelby Holmes is at it again. Using her super keen detective skills and her photographic memory, while relying on her sidekick, Watson, to help her out with the social skills she's lacking, Shelby solves another case in The Great Shelby Holmes Meets Her Match, by author Elizabeth Eulberg. While older readers will recognize the paralells to the original Sherlock Holmes, younger readers (even younger precocious readers will enjoy this series) will enjoy the mystery, relatability of the characters, and the exciting pace found in this mystery novel. The best part about this installment of the series is that Shelby comes to realize even super geniuses are human and make mistakes, but true friends love you and overlook those flaws.
Told from John's perspective, who is starting a new school and his only friend is a quirky and somewhat socially awkward child prodigy, The Great Shelby Holmes Has Met Her Match is a novel that will appeal to both boys and girls. It's also a great novel on the value of true friends and forgiveness, as both Shelby and John have some things to learn in those areas. The fact that it is a fun mystery (that does bring an original Sherlock Holmes to mind) is what makes this a sure win for any precocious reader.
For the first installment of this series check out the review of The Great Shelby Holmes
Review is of an Advance Uncorrected Proof
Content Analysis:
Profanity/Language: None
Violence/Gore: Character sets up scene to make it look like someone had been murdered and to scare another character; video game depicting violence described; characters are locked into a room for several hours and as a result one of them passes out in a diabetic coma.
Sex/Nudity: None
Mature Subject Matter:
Divorce, chronic disease (diabetes).
Alcohol / Drug Use:
None
Reviewed By Sally