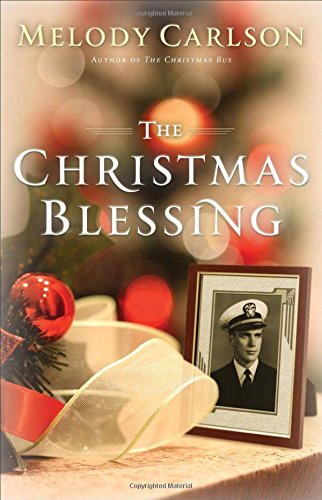 Publisher's Note:
When she receives the news in late 1944 that her baby's father was shot down in the South Pacific, Amelia Richards loses hope. Jobless and broke, she has nowhere to turn for help but her infant's paternal grandparents. The only problem is, they don't know that she--or their grandson--exists. When Amelia discovers that the family is wealthy and influential, dare she disclose the truth of her relationship with their son? Or could the celebration of the arrival of another unexpected baby nearly two thousand years ago be the answer to her dilemma?

Beloved author Melody Carlson pens a story of love, hardship, and reconciliation that will leave readers filled with Christmas joy
This book was sent to Compass Book Ratings for review by Revell
The Christmas Blessing
by Melody Carlson
Overall Review:
The Christmas Blessing by Melody Carlson has an enjoyable writing style. Carlson writes of tender, sensitive issues in a way that makes them real without being overly graphic or harsh. Readers will feel an immediate relationship with the main character, Amelia Richards. What that relationship feels like will depend on the reader.
The story contains several moments where this reviewer wanted to reach through the pages and give people some shakes and admonish them to be more compassionate. This is more of an emotional journey that the author allows readers to travel with her characters.
Those who enjoy books that are unrealistic, but offer an escape from reality will find this read just perfect. Those like myself who were hoping for a bit less of perfect and a bit more realistic and yet still happy will find disappointment on some level. So, if you are looking for that perfect ending to a story, then this is the book to read.
Content Analysis:
Profanity/Language: None
Violence/Gore: A character's plane is reported shot down and he is dead; a man is mistreated by guards; men are tied up and beaten; a man's leg is reportedly amputated; it is implied that a stepfather abused a girl, but the specifics are not listed.
Sex/Nudity: Report that a woman was pregnant as a result of a premarital union, no details or direct mention of sexual activity; a character suggests that a woman attempted to lure a man into sexual behavior, but the word sex is not used; non-married characters hug and embrace, a child is said to be illegitimate.
Mature Subject Matter:
Death of a family member, war, illegitimate child, abuse.
Alcohol / Drug Use:
None
Reviewed By Susan