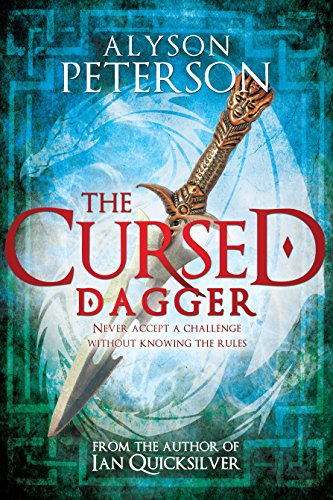 Publisher's Note:
In order to break an evil curse, Ian Quicksilver, heir to the Bankhirian throne, has two weeks to get Princess Arianna to fall for him. But first he must take care of a rampaging dragon and a maniacal magician before they destroy his home town! He'll have to find the courage to save two worlds--and pass his classes--in this witty sci-fi adventure.
This book was sent to Compass Book Ratings for review by Sweetwater Books
The Cursed Dagger
by Alyson Peterson
Overall Review:
The Cursed Dagger is book two of the Ian Quicksilver series with the premise that aliens with superpowers come to earth and pose as ordinary high school students while attempting to break a magician's curse and save their planets. I recommend reading the first book prior to this one but even if you don't, the author, Alyson Peterson, will quickly get you up to speed. Ian is a born warrior and with that comes little to no ability to "court" Ari, which is what he needs to do in order to break the magician's curse. It's quite comical how bad he fails time after time. And don't expect the magician to play fair. Peterson creates some serious suspense when she throws a dragon into the mix. Unfortunately, the dragon isn't the only hurdle Ari and Ian have to get over. You'll love Ian and Ari and loathe the magician, Silivus (perfect name!). Fantasy fans especially need to check this one out. Drama, action, and a sweet (yet awkward) romance make for a perfect story in The Cursed Dagger.
Content Analysis:
Profanity/Language: 1 mild obscenity; 2 scatological words.
Violence/Gore: Many (36) brief incidents including character wants to hurt another; character wants to kill another; character jokingly wants to die; verbal threats; plans to kill creature; second-hand report of characters killing assassins; second-hand report that magic blasted and nearly killed character; reference that character nearly killed another; references to fighting, attacks and war; second-hand report of character dying and another nearly dying; reference to character attempting to kill another; character gets small cut while training with sword; character and creature stabbed, receiving life-threatening wounds; character and creature's wounds open and close over and over again; character gets sick and has sores all over body whenever near another character; lava rains on them causing minor injuries; tables and chairs splinter from an explosion; barn and house on fire; character killed. One extended incident of characters fighting a dragon.
Sex/Nudity: Several (16) brief incidents involving teenagers including hugging; holding hands; dancing; kissing; cuddling; arm around; ref to character getting "caught with pants down" meaning he's unprepared; character tells another he can't "get it on" with her.
Mature Subject Matter:
Death, references to war.
Alcohol / Drug Use:
Steroids mentioned.
Reviewed By Jenny