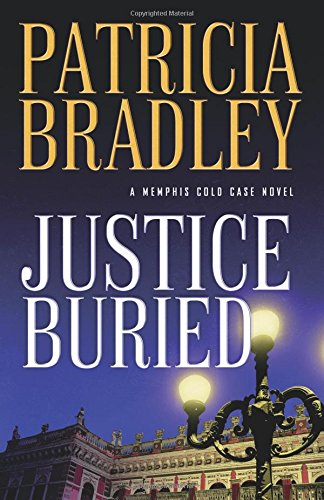 Publisher's Note:
In an effort to get her security consulting business off the ground, Kelsey Allen has been spending a lot of time up in the air, rappelling down buildings and climbing through windows to show business owners their vulnerabilities to thieves. When she is hired to pose as a conservator at the Pink Palace Museum in order to test their security weaknesses after some artifacts go missing, she's ecstatic. But when her investigative focus turns from theft to murder, Kelsey knows she's out of her league--and possibly in the cross hairs. When blast-from-the-past Detective Brad Hollister is called in to investigate, Kelsey may find that he's the biggest security threat yet . . . to her heart.

Crackling with romantic tension and laced with intrigue, this suspenseful story from award-winning author Patricia Bradley will keep readers guessing--and looking over their shoulders.
This book was sent to Compass Book Ratings for review by Revell
Justice Buried
by Patricia Bradley
Overall Review:
Justice Buried by Patricia Bradley is the second book in the Memphis Cold Case series. The main female character, Kelsey Allen, is especially interesting as she is making a career out of professionally hacking and breaking and entering as part of a security team. That alone makes for an interesting story, but then the author adds in attempted murder, theft, and romance just to make sure the reader is intrigued.
The main plot focuses on uncovering the source of the many shots that are fired at Kelsey Allen and also determining who is behind the artifact thefts from a museum. Mingled into all of this there is a decent amount of emotional angst as Kelsey is still dealing with her feelings about a father who was a thief and abandoned her as a young girl. As one might expect, these feelings affect her ability to trust and to develop relationships.
Much of the story was predictable, but readers are kept hopping as different aspects of the plot unfold. The mystery whodunit parts of the story are resolved completely, but the romance side of things ends a bit abruptly. Readers who relish the part where the guy gets the girl and they become an item for sure will find their pleasure rather quickly squandered as the book ends very soon after the romance ensues.
Content Analysis:
Profanity/Language: None
Violence/Gore: Report of dead body being found and cause of death was murder, this is mentioned several times; several instances of shots being fired, in some cases people are hit and there is blood; skeletal remains are discovered, this is referenced throughout the book; characters are held at gunpoint; characters are tied up.
Sex/Nudity: Non-married characters hold hands, kiss and embrace.
Mature Subject Matter:
Death/loss of a parent, divorce, murder.
Alcohol / Drug Use:
None
Reviewed By Susan