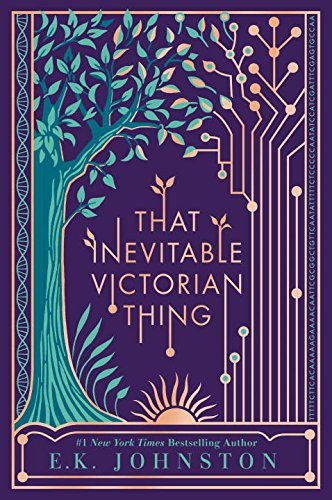 Publisher's Note:
Speculative fiction from the acclaimed bestselling author of Exit, Pursued by a Bear and Star Wars: Ahsoka.

Victoria-Margaret is the crown princess of the empire, a direct descendent of Victoria I, the queen who changed the course of history. The imperial tradition of genetically arranged matchmaking will soon guide Margaret into a politically advantageous marriage. But before she does her duty, she'll have one summer of freedom and privacy in a far corner of empire. Posing as a commoner in Toronto, she meets Helena Marcus, daughter of one of the empire's greatest placement geneticists, and August Callaghan, the heir to a powerful shipping firm currently besieged by American pirates. In a summer of high-society debutante balls, politically charged tea parties, and romantic country dances, Margaret, Helena, and August discover they share an extraordinary bond and maybe a one-in-a-million chance to have what they want and to change the world in the process.

Set in a near-future world where the British Empire never fell and the United States never rose, That Inevitable Victorian Thing is a surprising, romantic, and thought-provoking story of love, duty, and the small moments that can change people and the world.
This book was sent to Compass Book Ratings for review by Dutton
That Inevitable Victorian Thing
by E.K. Johnston
Overall Review:
Young adult author E.K. Johnston's latest novel That Inevitable Victorian Thing presents itself as alternate historical fiction in which the Colonies never revolted, and the British Empire has ruled supreme since the reign of Queen Victoria I.
The author adds snippets of events in the form of chat correspondences, "historical" letters, and the likes, at the head of each chapter to help readers understand what a Victorian Age modern society resembles. While this world-building is an interesting concept, it takes a backseat to the actual motif which happens to be a heady romance.
Third person present narrative trails the affairs of three main characters, and how an impromptu encounter during the summer changes the course of their lives.
The first half of the novel is full of frills and is very cutesy, but commences at such a slothful pace that it's almost painful. The second half of the novel leaves all frivolity behind and takes on a new tone as a royal convulsion comes to light.
Even though I liked the background of the main characters, I found it hard to connect with them. The author often attributes them one way, but their actions are contrary to that description. Disappointingly, an enjoyable character that added levity and performed a significant role in the first half disappeared in the second half.
The convergence of multicultural and interracial aspects was beautiful. And while I found navigation of one character's sexuality to be confusing, I applaud the author for bringing forward a gender issue that many may not be familiar with.
While some readers may find the plot relevant or intriguing, it did not fully resonate with me; it was a case of "says one thing, but does another." All throughout the story readers are steeped in this forward thinking society that is accepting of all religion, race, ethnicity, and sexuality, yet this point was made counterproductive with a hasty ending that left me disappointed with the characters' choices.
Don't let the lightness of the first half of the novel fool you (please see Content Review and Mature Subject Matter below); this is a book that explores progressive sexual issues.
Review of an Advance Reader Copy
Content Analysis:
Profanity/Language: 3 Religious exclamations; 1 mild obscenity; 1 religious profanity; 1 F-word derivative.
Violence/Gore: A few instances of humorous violence; a few reports of pirate activity with acts of blackmail; report of an accident which led to the loss of a limb for a character; brief mention of past battle; extended report (½ page) accidental death.
Sex/Nudity: Mention of possible romance; comment made about marriage being about rumpled sheets; females romanticize about being married; hand holding few times; female is fitted with a corset, makes comment about breast size; mention of sexism; innocent sexual innuendo; friendly wink (2x); mention of same sex partners dancing; romantic looks between characters; husband and wife kiss; couples dance; characters briefly hold hands and kiss; flirting; mention of dating and proposals of marriage; character faces a crisis of sexual/gender identity; song contains a sexual reference; characters dance an intimate dance; extended scene (about 2 pages) romantic thoughts; mention of animals mating; few brief sexual reference; sexual tension and attraction between characters; extended scene (about 1 page) intersex and male kiss passionately; intersex and male kiss; extended scene (about 1 page) character analyzes their sexuality; intersex and female sleep in the same bed (innocent); declaration of love; extended scene (about ¼ page) intersex and female passionately kiss and caress (descriptive); female reports lying down with intersex kissing, caressing, licking one another, innuendo of sexual experimentation; intersex and male kiss; intersex cuddles with male and female (separately); plan of marriage proposal; extended scene (about ¼ page) intersex and male embrace and kiss; intersex and female who are attracted to each other sleep in the same bed; extended scene (about ½ page) female declares their love for intersex; female becomes aroused when intersex touches her; female reports accepting marriage proposal from male; intersex and female kiss few times; extended scene (about ½ page) female studies nude intersex as they undress (sexual); mention of homosexual marriage; extended scene (about 1 page) character is confused about their gender and sexuality, mentions menstruation; extended scene (about 1 page) explanation of intersex; extended scene (about 2 pages) female declares their love for non-binary individual; extended scene (about 1 page) intersex and female lie on top of each other, kissing, removing clothing, touching each others' private places, sexual experimentation; gossip article about suspected romance; female reports having had enjoyed sex with intersex; extended scene (about 2 pages) mature discussion of sex (2x); mention of in vitro fertilization; extended scene (about 2 pages) marriage proposal between male and female, proposal for intersex to be female's lover, commitment from individuals to keep each other sexual secrets.
Mature Subject Matter:
Teen(s) deal with sexual confusion/gender identity/intersex/LGB, blackmail.
Alcohol / Drug Use:
Mention of an adult attending a pub; wine is served at a party.
Reviewed By MaryLou