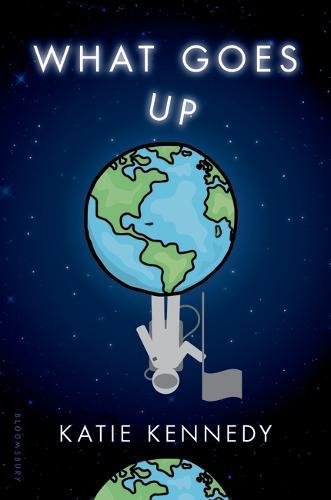 Publisher's Note:
Rosa and Eddie are among hundreds of teens applying to NASA's mysterious Interworlds Agency. They're not exactly sure what the top-secret program entails, but they know they want in. Rosa has her brilliant parents' legacies to live up to, and Eddie has nowhere else to go--he's certainly not going to stick around and wait for his violent father to get out of jail. Even if they are selected, they have no idea what lies in store. But first they have to make it through round after round of crazy-competitive testing.
And then something happens that even NASA's scientists couldn't predict . . .
From the author of the acclaimed Learning to Swear in America comes another high-stakes adventure that's absolutely out of this world.
This book was sent to Compass Book Ratings for review by Bloomsbury Children's Books
What Goes Up
by Katie Kennedy
Overall Review:
"People should exchange bacon at weddings. Who gives a crap about rings? But if you're willing to share your bacon--that marriage is gonna last." --Eddie Toivonen in What Goes Up
If you like the above quote, there's plenty more where that came from in What Goes Up. Author, Katie Kennedy, created a unique plot that keeps the pages turning. In this story the characters are attempting to become part of a prestigious NASA program; so as expected, people will go to great lengths to ensure their spot. Full of action and danger, the story was also surprising, amusing, and thought-provoking. The character development was excellent, you felt like you knew the characters well, and the dynamics between the four main characters was fantastic. If you liked Cristin Bishara's Relativity or Shannon Hale's Dangerous you should try out What Goes Up.
Content Analysis:
Profanity/Language: 35 religious exclamations; 43 mild obscenities; 3 religious profanities; 4 derogatory names; 7 scatological words; 28 anatomical terms; 1 offensive hand gesture; 1 f-word.
Violence/Gore: Many (28) brief incidents including teacher tells teenage male character to fight girl to test him; joke about killing someone; could potentially blow self up; joke about punching; characters discuss scenarios of possible death; reference to suicide mission; characters talk about people who might be dead; picture seen of character who got shot; reference to character who died in spacecraft crash; second-hand report of character getting punched in jail; reference to bar fights; second-hand report of adult character murdering another adult; reference to characters getting cancer from genetically modified food; reference to father throwing things at teenage son; second-hand report of elderly character dying; reference to people dying from starvation, freezing or asphyxiation; character hits another in the nose; character cuts self to prove he's human; character burns (lightly) body part on electric fence; gun aimed at character; people in simulation are injured; people in simulation nearly drown; characters are going to throw another down some stairs when another stops them and punches them; two characters are punching each other; characters try to crash ship; characters jump out of space craft, one gets shot at; characters crash, causing character to receive broken arm and character gets shrapnel in back.
Sex/Nudity: Several (17) brief incidents including character touches wife's leg; teens touch hand and back; teens hug and kiss; male teenage character in only boxers with female character (non-sexual); teenage male character urinates in front of female teenage character who sees genitalia; teenage character makes references to male genitalia; teenager removes all but boxers in flood simulator; female teenager removes shirt in simulator to help people who are drowning; character suggests that another might be homosexual; male character asks another male if he will look at wound on butt (he doesn't).
Mature Subject Matter:
Death, child abuse referenced, attempted murder.
Alcohol / Drug Use:
Reference to steroids; underage drinking.
Reviewed By Jenny