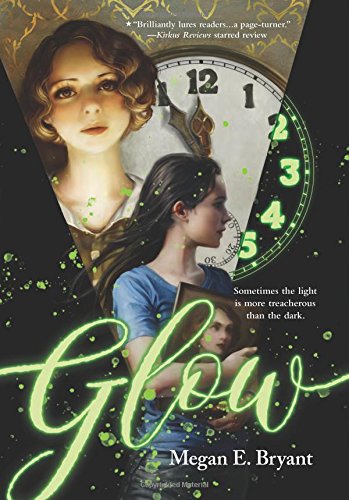 Publisher's Note:
When thrift-store aficionado Julie discovers a series of antique paintings with hidden glowing images that are only visible in the dark, she wants to learn more about the artist. In her search, she uncovers a century-old romance and the haunting true story of the Radium Girls, young women who used radioactive paint to make the world's first glow-in-the-dark products—and ultimately became radioactive themselves. As Julie's obsession with the paintings mounts, truths about the Radium Girls—and her own complicated relationships—are revealed. But will she uncover the truth about the luminous paintings before putting herself and everyone she loves at risk?
This book was sent to Compass Book Ratings for review by Albert Whitman & Co.
Glow
by Megan E. Bryant
Overall Review:
Glow is an effortless read that will keep you turning pages until the very end. Megan Bryant's first YA novel should be considered an unmitigated success and you should be running to the bookstore to get it now.
Glow is the story of Julie, a girl who made a huge sacrifice to save her family and changed her life forever. As Julie is drawn to some very unique paintings, she finds herself caught up in a world of corrupt businesses and horrendous working conditions in World War I era. She discovers that the relationships then were just as complicated as her relationships now and the decisions the girls made then no less easy.
As Julie breaks and mends relationships, discovers the truth about her family and the paintings, and discovers her future isn't as bleak as she once thought, the reader is transported through time and space to watch Julie and the Radium Girls. Steeped in historical fact surrounding the treatment of female watch dial painters from this era, this book will leave you horrified as to working conditions. But the redemptive story in the end is worth every page.
Glow is a must read that should be put on the top of your list immediately. Great for young and old readers, it is sure to be one that you can't put down.
Content Analysis:
Profanity/Language: 29 religious exclamations; 6 mild obscenities; 1 religious profanity; 1 derogatory name; 1 anatomical term.
Violence/Gore: Facial wound weeps blood and pus, causes teeth to fall out with graphic descriptions of necrotic jaw and the debridement of wound and subsequent surgery; death from poisoning; accidentally bites lip leaving bloody; blood flows from nose like a faucet; creepy/frightening skulls and skeletons hidden in paintings (four times); fall resulting in broken leg; sister purposely drops her other sister into bed hitting head on headboard;
Sex and Nudity: Girl walks in on man and woman in an embrace; reference to girl's promiscuity; hand on clothed back; kiss between older teens; older teens place hands under boy's shirt while kissing; hand-holding between older teens; girl strips off clothes for bath and decontamination shower (no graphic detail).
Mature Subject Matter:
Death of family members and friends, terminal illness, war, divorce, unemployment, abandonment, ethics, trespassing.
Alcohol / Drug Use:
One reference to when teens got drunk.
Reviewed By Beckie