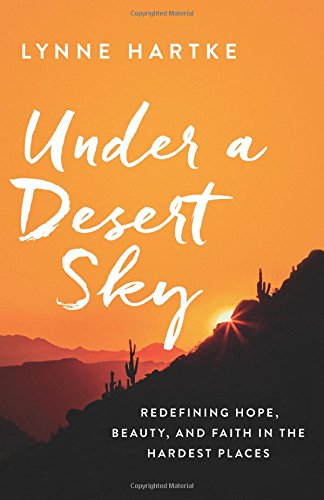 Publisher's Note:
There comes a time in life when we find ourselves in the desert place of burning questions. Why? Why me? But even as we shake our fist heavenward, the heart whispers another question. Who? Who are you, God? It is a question of relationship, a question we all murmur in the hardest places.

Against the backdrop of the Sonoran Desert, Lynne Hartke asks her own hard questions as cancer arrives like a thief with one goal: to take it all. Hair. The contents of a stomach. A marriage. A life. As her days become a blur of doctors' appointments, treatments, and surgeries, she wrestles with a tumble of tangled emotions, a shaken faith, and self-doubt. Cancer is now not only threatening her own life, but, in a surprising twist, the lives of both her parents as well.

Through her raw, lyrical words, Hartke invites fellow sojourners to discover that in life's hardest places, they are not alone in their fear, they are not foolish to hope, and they are never forgotten by a loving, pursuing God. Never.
This book was sent to Compass Book Ratings for review by Revell
Under a Desert Sky: Redefining Hope, Beauty, and Faith in the Hardest Places
by Lynne Hartke
Overall Review:
Sometimes I go awhile without reading a spiritual book. When I was a teen, my favorite book series was "Left Behind", and I had only discovered the series by first reading every other book in our church's small library. I think my parents liked knowing that if I was reading books from the church, they were probably appropriate. I read a lot of "Christian" books in my adolescence, so I suppose I did need a break sometime.
This book reminded me how hopeful and uplifting a good, faith-filled book can be, even if it is non-fiction and deals with some pretty dire stuff. As humans, it can be difficult seeing pain, loss, disease--anything that hurts us causes our loved ones to hurt. Despite a cancer diagnoses and feeling like the future looks bleak, Lynne Hartke does a wonderful job of telling her stories of heartache and feelings of loss in such a way that they are filled with hope.
Mrs. Hartke uses her faith and Bible verses to provide strength in her toughest days, and she also often shares how her belief in God was a steady guide in the questions and doubts she has experienced in her life. I think that anyone who has experienced loss from cancer, or is a friend too someone with cancer, will be able to find a feeling of positivity upon finishing this book.
Content Analysis:
Profanity/Language: None
Violence/Gore: A man is recalled to have ridden his snowmobile into a barbed wire fence and is mentioned to have been bleeding profusely, blood is also mentioned to be seen on his clothes and gloves; cancer treatment and its effects are described in brief detail; a parent is mentioned to suffer from a stroke and a heart attack; the author gives a brief description of seeing her mother in agony from cancer treatments.
Sex/Nudity: Sexual innuendo is implied briefly; clinical nudity occurs briefly; a woman is described trying on bras and her mastectomy scars are mentioned.
Mature Subject Matter:
Loss of a loved one, cancer, death.
Alcohol / Drug Use:
None
Reviewed By Lydia