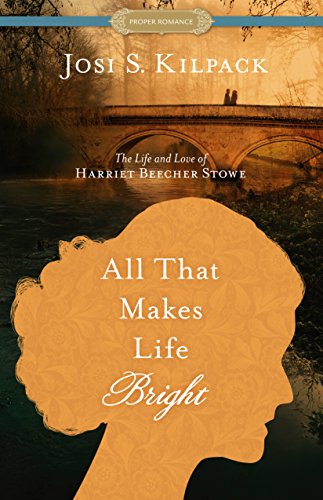 Publisher's Note:
When Harriet Beecher marries Calvin Stowe on January 6, 1836, she is sure her future will be filled romance, eventually a family, and continued opportunities to develop as a writer. Her husband Calvin is completely supportive and said she must be a literary woman. Harriet's sister, Catharine, worries she will lose her identity in marriage, but she is determined to preserve her independent spirit. Deeply religious, she strongly believes God has called her to fulfill the roles of wife and writer and will help her accomplish everything she was born to do.
Two months after her wedding Harriet discovers she is pregnant just as Calvin prepares to leave for a European business trip. Alone, Harriet is overwhelmed—being a wife has been harder than she thought and being an expectant mother feels like living another woman's life. Knowing that part of Calvin still cherishes the memory of his first wife, Harriet begins to question her place in her husband's heart and yearns for his return; his letters are no substitute for having him home. When Calvin returns, however, nothing seems to have turned out as planned.
Struggling to balance the demands of motherhood with her passion for writing and her desire to be a part of the social change in Ohio, Harriet works to build a life with her beloved Calvin despite differing temperaments and expectations.
Can their love endure, especially after "I do"? Can she recapture the first blush of new love and find the true beauty in her marriage?
This book was sent to Compass Book Ratings for review by Shadow Mountain
All That Makes Life Bright: The Life and Love of Harriet Beecher Stowe
by Josi S. Kilpack
Overall Review:
All That Makes Life Bright: The Life and Love of Harriet Beecher Stowe is a thought-provoking and well-written read. Shadow Mountain's beloved author Josi S. Kilpack delivers another powerful historical romance to the Proper Romance series. Kilpack meticulously researched the early months of marriage between the Uncle Tom's Cabin author and her husband, Calvin. As Harriet attempts to establish some kind of home and work balance, her struggles will deeply resonate with readers. In fact, the narrative is astonishingly relevant for this day, despite taking place almost two hundred years ago in 1836. The varied emotions and character development of the couple is profound and make this a book one that is hard to put down. All That Makes Life Bright features Christian themes and is highly recommended!
Review of an Advance Reading Copy
Content Analysis:
Profanity/Language: None
Violence/Gore: A few secondhand scenes of violence including a slave suicide, fist fight, and mob; a character imagines a scene where a slave is brutally whipped.
Sex/Nudity: Multiple incidents of kissing; a sexual reference and several implied occurrences of sexual activity regarding pregnancy and family planning.
Mature Subject Matter:
Death of family members, slavery, second marriages, childbirth, exhaustion.
Alcohol / Drug Use:
A character drinks whiskey as migraine relief.
Reviewed By Rachel