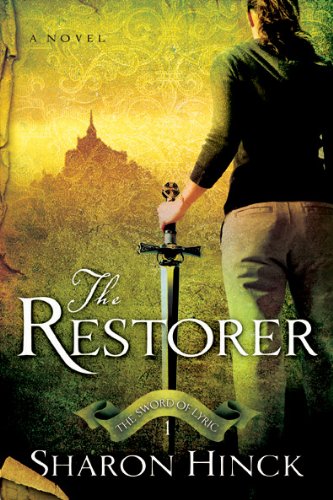 Publisher's Note:
Wife and soccer mom Susan Mitchell enters a portal into a mysterious world grappling for its soul and waiting for a promised Restorer. While she struggles to adapt to a foreign culture full of unfamiliar technologies and taboos, she faces unexpected battles, mind-poisoning enemies, and a profound spiritual journey.

Her adventure will forever change her family, her faith, and how she experiences love—from the One.
The Restorer
by Sharon Hinck
Overall Review:
The author, Sharon Hinck, has written a story that transcends time and history with lessons of inspiration and hope. Quite possibly loosely based on the story of the Israelites in the Bible, this is a Christian work of fiction. Faith in God and prayer are important pieces of this woven tale. If you are looking for encouragement and faith, this would be an excellent read. At 480 pages, it is powerfully descriptive and at times long, but well worth the time spent. The main character, Susan, who is a wife and mother, transforms in ways she could never imagine. Willing to be in service wherever God takes her, she learns the stuggle is real, yet she discovers she is stronger with God on her side than she could ever have imagined. With a handful of main characters who range from politicians to warriors, the author probes into the details of their lives and the elements that keep them motivated. Dealing with desperate and deadly decisions, the characters choose to depend on God or on themselves. There are four books in this series so if you fall in love with these everyday people, there is more to look forward to.
Content Analysis:
Profanity/Language: None
Violence/Gore: Woman caught in a storm, scary; sword fight between 2 men, blood, 1 dies; woman hit by a large truck, injuries, no gory details; woman held captive by a man, she fights back; woman remembers the fear as a child of when a dog lunged at her; man cuts woman's arm, blood, no major description; man kills a freaky animal with a knife; woman kills an evil man with sword, minor details; man & woman spar with swords, some blood; chemical attack, lung damage, blisters; woman murdered, minor descriptions; lives of people & children threatened; a young boy, 12ish, pleads to be killed before being tortured; mention of a previous battle where over 200 people were killed; mention of a nation that offers children as human sacrifices to their gods; woman held captive, given trugh serum, minor physical harm, brief details, not gory; man hit on head by a weapon, no permanent damage; man tied up & hauled off; woman held by a man with a dagger to her neck, some blood; woman stabbed in chest; woman punches man on chin; two men interrogate a 12 yr old boy, some physical harm, no details; war between two nations, death on both sides, no gory details.
Sex/Nudity: Husband & wife enjoy cuddling together in bed, no details; husband & wife kiss multiple times, no details.
Mature Subject Matter:
Social, family, & political conflicts, death of family & friends, war, weapons, torture, mental poisoning.
Alcohol / Drug Use:
Mention of adults consuming cocktails at a Christmas party, minor details, no drunkenness; woman given a truth serum to make her talk.
Reviewed By Beth