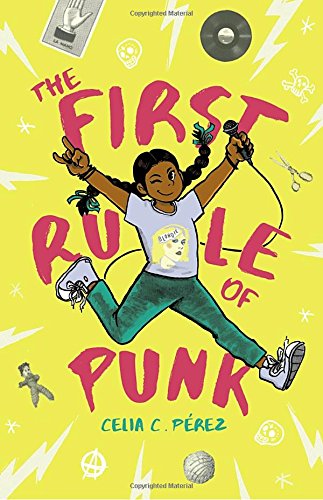 Publisher's Note:
From debut author and longtime zine-maker Celia C. Pérez, The First Rule of Punk is a wry and heartfelt exploration of friendship, finding your place, and learning to rock out like no one's watching.

There are no shortcuts to surviving your first day at a new school—you can't fix it with duct tape like you would your Chuck Taylors. On Day One, twelve-year-old Malú (María Luisa, if you want to annoy her) inadvertently upsets Posada Middle School's queen bee, violates the school's dress code with her punk rock look, and disappoints her college-professor mom in the process. Her dad, who now lives a thousand miles away, says things will get better as long as she remembers the first rule of punk: be yourself.

The real Malú loves rock music, skateboarding, zines, and Soyrizo (hold the cilantro, please). And when she assembles a group of like-minded misfits at school and starts a band, Malú finally begins to feel at home. She'll do anything to preserve this, which includes standing up to an anti-punk school administration to fight for her right to express herself!

Black and white illustrations and collage art throughout make The First Rule of Punk a perfect pick for fans of books like Roller Girl and online magazines like Rookie.
This book was sent to Compass Book Ratings for review by Viking Books for Young Readers
The First Rule of Punk
by Celia C Perez
Overall Review:
Malu has always found it easier to relate to her rocker dad than her traditional mother. But her world gets turned upside down when her mom gets a new job and she must leave everything she knows in Florida, including her dad, and move to Chicago. Never dreaming that this move could help her find a way to reconcile her punk rock spirit with the culture her mother desperately wants her to embrace.
The First Rule of Punk by Celia C. Perez is a fast-moving, beautiful story of finding yourself. 12-year-old Malu Perez gives the reader a likable and highly relatable character. Headstrong and spirited, with a love of all things punk fostered by her Caucasian father, she struggles to find common ground with her mother, whom she refers to as "Supermexican", and to find footing in a culture she doesn't feel a part of. Wonderfully put together magazine zines, or collages, throughout the book also help to solidify Malu even more by giving the reader a peek into her mind and how she sees things. Perez surrounds Malu with a rich cast of supporting characters to guide and support her on her journey as she learns that a person can be more than one thing.
Review of an Advance Reader Copy
Content Analysis:
Profanity/Language: None (Note: Characters are referred to multiple times as "Coconuts", a slang term with racial connotations).
Violence/Gore: Reference to grandparent's death; girl kicks boy; boy pulls girl's hair.
Sex/Nudity: None
Mature Subject Matter:
Divorce, cultural identity and heritage, starting over.
Alcohol / Drug Use:
None
Reviewed By Amberle