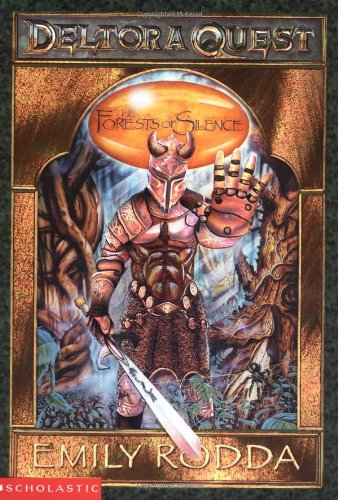 Publisher's Note:
Filled with action, adventure, and magic, Emily Rodda's remarkable Deltora series begins right here--with a spectacular new lenticular 3-D cover!

The evil Shadow Lord is plotting to invade the land of Deltora and enslave its people. All that stands against him is the magic Belt of Deltora with its seven stones of great and mysterious power.
In secrecy, with only a hand-drawn map to guide them, two unlikely companions set out on a dangerous quest. Determined to find the lost stones and rid their land of the Shadow Lord, they struggle toward their first goal--the sinister Forests of Silence.
Deltora Quest: The Forest of Silence (#1)
by Emily Rodda
Overall Review:
The Forest of Silence is the first book in Emily Rodda's Deltora Quest series. There are eight books in the series, and, if the other installments are as exciting as this first one, I can't wait to read them all.
The Forest of Silence is the first destination within the kingdom of Deltora for two brave, but inexperienced, companions as they set out to gather the magic stones once ripped from the Belt of Deltora. They must gather the seven stones before the belt can be fully restored and give the people of Deltora something that they haven't had in years, hope.
My ten-year-old son and I read this fantasy adventure together. It is a great read-aloud, or perfect for a middle grade reader to read by themselves. The chapters are short and packed full of action. The writing is engaging and the characters are memorable. What more could you ask for?
Content Analysis:
Profanity/Language: None
Voilence/Gore: 2 verbal threats; 1 non-life threateing injury; characters are attacked by many creatures; monster eats a creature; a man punches another man and knocks him out; 2 non-detailed scenes where a man is killed.
Sex/Nudity: None
Mature Subject Matter:
War; Death.
Alcohol / Drug Use:
***
Reviewed By Ambra