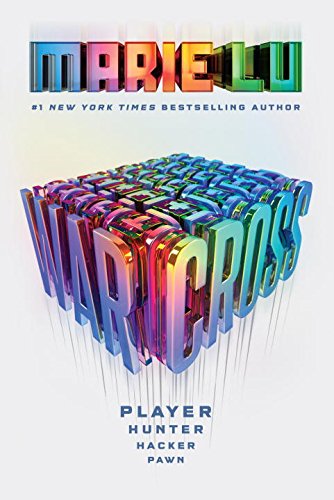 Publisher's Note:
From #1 New York Times bestselling author Marie Lu—when a game called Warcross takes the world by storm, one girl hacks her way into its dangerous depths.

For the millions who log in every day, Warcross isn't just a game—it's a way of life. The obsession started ten years ago and its fan base now spans the globe, some eager to escape from reality and others hoping to make a profit. Struggling to make ends meet, teenage hacker Emika Chen works as a bounty hunter, tracking down Warcross players who bet on the game illegally. But the bounty-hunting world is a competitive one, and survival has not been easy. To make some quick cash, Emika takes a risk and hacks into the opening game of the international Warcross Championships—only to accidentally glitch herself into the action and become an overnight sensation.

Convinced she's going to be arrested, Emika is shocked when instead she gets a call from the game's creator, the elusive young billionaire Hideo Tanaka, with an irresistible offer. He needs a spy on the inside of this year's tournament in order to uncover a security problem . . . and he wants Emika for the job. With no time to lose, Emika's whisked off to Tokyo and thrust into a world of fame and fortune that she's only dreamed of. But soon her investigation uncovers a sinister plot, with major consequences for the entire Warcross empire.

In this sci-fi thriller, #1 New York Times bestselling author Marie Lu conjures an immersive, exhilarating world where choosing who to trust may be the biggest gamble of all.
This book was sent to Compass Book Ratings for review by Putnam
Warcross (Warcross #1)
by Marie Lu
Overall Review:
From Dystopian (Legend series) to Fantasy (The Young Elites series) and now a Science Fiction Thriller, YA author Marie Lu knows how to please her fans. Her latest book has everything that readers are currently craving in the YA genre – international excursions, diverse relatable characters, epic world building, cool techie content; add in good ol' action and romance, and you have yourself the breakout, blockbuster book of 2017, Warcross (Warcross #1).
Intriguing right from the get go, the novel is endearingly narrated by smart, but down on her luck protagonist Emika Chen. There are many roles to be played within the story--player, hacker, pawn, which one will she perform? Emika challenges readers to keep up with her new fast-track life after she accidentally attracts the attention of a high-profile billionaire game developer, (who just happens to be her idol, oh and handsome!) who requires her unique skill sets for a covert mission.
Readers along with Emika will jet set from Manhattan to Tokyo for a high stakes match that is more than just fun and games. Digital espionage that is audaciously exciting and architecturally creative, the world building that the author sets up is fantastic. The characters present existence and the different virtual realities they enter into are visionary gems for readers. A great mix of contemporary and science fiction, this imaginative high-tech world is made reachable on account of the down to earth emotions that play out between the individuals. Readers will certainly appreciate the diversity among the characters. The author doesn't shy away from portraying different race, ethnicity, status, disability, styling, sexuality, etc. Another aspect that readers can appreciate is the author's mindfulness of her targeted audience when it comes to content level (see below content review). Instead of fixating on shock value, the author brilliantly focuses on the storyline and character connection.
Fast-paced with just enough romance and loads of action, the book raises questions of justifiable moral behavior and utilitarianism, but not to worry, there is still plenty of amusement to be had.
"GAME! SET! FIGHT!"
Watch out for the major reveals that lead to a cliffhanger ending, you may be able to guess one, but there is more to be had. This series is arranged to be a duology, and the final book, which has yet to be titled, is set for release in 2018.
Review of an Advance Reader Copy
Content Analysis:
Profanity/Language: 4 Religious exclamations; 20 mild obscenities; 1derogatory name; 3 scatological words; 6 anatomical terms. (Note: German scatological word is used once.)
Violence/Gore: Report of character using a stun gun and getting bit; report of illegal gambling and arrest warrant; extended scene (about 1 page) character chases a suspected criminal, uses a stun gun, and engages in a physical fight; character is roughly pushed and threatened; character recalls a memory of being pushed down and receiving a minor injury; character recalls being physically/mentally abused by fellow children and adults as a child; report of increased crime across the world; remarks on character's criminal record; extended scene (about 2 pages) violence in virtual reality game; pushing and shoving; character has a memory of a friend being severely bullied in high school/digital bullying; report of death threats; report of character receiving a mild injury; acknowledgment of character being a paraplegic and being confined to a wheelchair; about 5 humorous occurrences of violence; few threats of violence; extended scene (about 1 page) violence within a digital game; extended scene (about ½ page) characters practice fighting, minor injuries received; mention of assassins for hire/assassinations; remark that a man was accused of rape; extended scene (about 6 pages) virtual reality game violence; extended scene (about 1 page) report of an active shooter, gunshots overheard, character receives minor injury, attempted assassination; character has a violent dream; house explosion causes injuries and hospitalization of characters; threat of assassination; character's life is in physical danger; mention of illegal goods and services that are sold on the dark web; extended scene (about 1 page) virtual violence; extended scene (about 4 pages) virtual game violence; mention of violence.
Sex/Nudity: Remark of a night club that offers the entertainment of girls dancing on tables; a few brief sexual references; innuendo of character having multiple sexual partners; mention of dating; report of nude photo of a teen being sent out without the consent of the individual; remark(s) of male characters being in a homosexual relationship; insinuation of sexual intercourse between two males; picture portraying a male kissing a female; character has a dream of kissing another character; sign advertises establishment offers virtual sex; remark that a man was accused of rape; characters exchange flirtatious texts; characters flirt briefly few times; flirtatious joke is made; extended scene (about 1 page) characters flirt; extended scene (about 4 page) characters engage in passionate flirting, kissing, and touching/caressing of legs, chest, and back; character has a sexual dream; extended scene (about 1 page) male and female enter water naked, kiss and caress each other; male and female kiss a few times briefly; characters hold hands.
Mature Subject Matter:
Death of a parent, missing person/possible kidnapping, illegal activities, gambling, debt, computer hacking, bounty hunting, assassination, dark web activities.
Alcohol / Drug Use:
A few mentions of the selling of drugs; remark of character possibly being high; acknowledgment of a liquor store; character remembers their parent buying alcohol and drinking excessively; a few mentions of alcohol being offered to young adult under the age of 21; individual smells of cigarette smoke; a character under the age of 21 enters a bar.
Reviewed By MaryLou