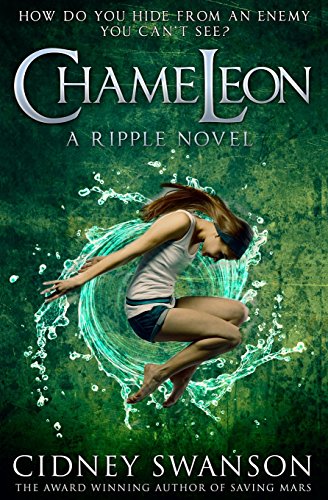 Publisher's Note:
Sixteen-year-old Samantha Ruiz has a lot on her mind. The crush who kissed her but changed his mind. The BFF who thinks Sam is in an abusive relationship. The Nazi-geneticist who wanted Sam dead but now wants her ALIVE. All this, and she's still dealing with a tendency to disappear into thin air. When Sam learns of her nemesis Helmann's Nazi-like plan to re-establish a Thousand-Year Reign, she's determined to fight him. Along with Will and Mickie, Sam flees to France to meet Sir Walter--their best hope for stopping Helmann's brave new world. Unfortunately, Sam isn't any safer in France. Someone invisible is following her, and now Sam must figure out how to hide from an enemy she can't even see.
Chameleon: Book Two in the Ripple Series
by Cidney Swanson
Overall Review:
The saga continues with more bizarre and uncertain circumstances. Book 2, Chameleon, can stand alone; yet, for more details you may want to read book one first. Narrated mainly by Sam, who is 16, we tag along as she travels with her best friend, Will. Creative, creepy, and delightful twists keep part two moving at a fast pace. The four main characters are all well-developed. It's great to see the growth in Sam and Will from book one to book two. The good guys are easy to like and the bad guys are effortlessly evil as they are chasing two teenagers and endangering their lives. As the story unfolds, Sam and Will both do their best to be honorable and upright in their pursuit of puzzling facts and disturbing historical figures. Sometimes doing the right thing isn't easy or popular; nevertheless, Sam follows her heart and chooses wisely. A light romance runs through the story but it doesn't get sappy or embarrassing. The author, Cidney Swanson, has a smooth writing style that draws the reader in and the pages fly by seemingly without effort. There are seven books in this gripping and thoughtful series. The challenges aren't magically resolved by the end of book two so the continuing saga is something to look forward to. It is recommended for all young adults 14+ looking for a gripping and thoughtful read.
Content Analysis:
Profanity/Language: 6 religious exclamations; 7 mild obscenities, 2 scatological words; 2 anatomical terms.
Violence/Gore: Mention of a man killed in book 1; 2 teens and an adult hide because people would like to kill or imprison them; video showing war & dead bodies, some description; mention of a man who tortured children in the name of science (WWII era); scientist destroys unborn life that is not perfect (WWII era); man throws knives at 2 teens; teen girl abducted; teen girl is thrown across floor, hitting her head, cuts & scrapes, some blood, bruising; man draws blood from Sam with a syringe; teen girl is convinced Sam's friend is physically abusing her; mention of multiple people killed becuase they had a disease; thirsty children drink poisoned water when their clean water was taken away for experimentation purposes (WWII era); man holds woman hostage for a short time & administers knock out drug; woman struggles as man holds her, bites & screams; man & woman fight as the woman tries to kill the man; woman shoots gun at teen boy, blood, fainting; woman fires gun at teen with intent to kill; explosion, woman killed, burnt skeleton; mention of mom and best friend who were murdered on purpose by a man driving a vehicle.
Sex/Nudity: Mention of 2 teens kissing in book one; teen girl remembers multiple times being kissed by a teen boy; teen girl wishes teen boy would kiss her and be her boyfriend; teens kiss while on an adventure; mention of teen boy and girl being conceived while parents were in a particular place; teen girl kisses teen boy; teen boy and girl kiss multiple times; teen girl notices how fit and cute an adult man's "melons" are.
Mature Subject Matter:
Keeping secrets from parents, eugenics, war, death, dead bodies, scientific ethics, physical abuse, Napoleon, death of mother, death of best friend, guns, murder.
Alcohol / Drug Use:
Short-acting knock out drug given to woman to subdue her.
Reviewed By Beth