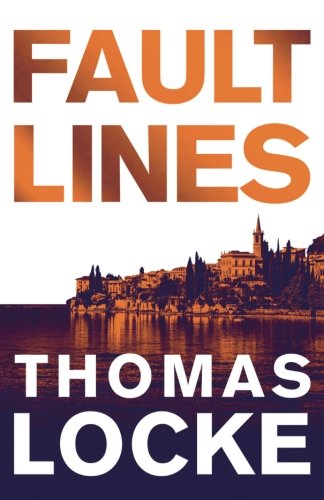 Publisher's Note:
As a security expert, Charlie Hazard is all about taking control of the situation. But when the stunning Dr. Gabriella Speciale draws him into a secret psychological project, risk parameters are shattered. Every move brings him to the edge of one fault line after another, and Charlie struggles to stay clear of a maelstrom of entangled dangers.

The research team abandons the lab on the Florida coast and flees to a mountain refuge in Italy. The battles in Charlie's mind are overtaken by real life attacks. He must grapple with the daunting realization that a conspiracy is taking hold on both internal and external levels. Can Gabriella be trusted, or is she just part of the scheme?

Leave behind your assumptions about the way the world works, and race along the unknown corridors of human consciousness in Fault Lines.
This book was sent to Compass Book Ratings for review by Revell
Fault Lines
by Thomas Locke
Overall Review:
Fault Lines by Thomas Locke is part of the Fault Line series. It is listed as a prequel to the other books in the series. It is a futuristic novel of sorts, but still takes place in modern times. The beginning of the book is intriguing, but the whole concept behind what is referred to as ascending just didn't make sense and seems weird rather than amazing. Perhaps reading the other novels which were published first would help things make more sense.
The main male character, Charlie Hazard, is pretty cool. His ability to be a security agent and all of his connections around the world are fascinating. The action sequences and the blackmail and such that take place are really the most fascinating parts. These events far outshine the ascendency aspects. Enjoy the engaging personalities with whom Charlie Hazard works. They are quirky and skilled.
The female protagonist is a tragic heroine it seems. She has many people who betray her, and she is just a sad lonely person who is willing to do anything to defend her research. She also goes about her activities with a great deal of secrecy which adds more mystery to the story.
Readers who like action and intrigue will find this interesting. There is little in the way of romance or feel good reading material here.
Content Analysis:
Profanity/Language: None
Violence/Gore: Motorcycles deliberately crash into a vehicle; several instances in which shots are fired; a couple of multi-page sequences in which a villa is stormed by many people guns, tasers, batons, fists and various objects are used during the attack, but no fatalities; multiple threats to kill or harm people; report that a man was accused or murder.
Sex/Nudity: Married man caught with another woman; report that a man has been having an affair; mention of a brothel.
Mature Subject Matter:
Adultery, death of a spouse, blackmail.
Alcohol / Drug Use:
Report that a woman had been doping heavily.
Reviewed By Susan