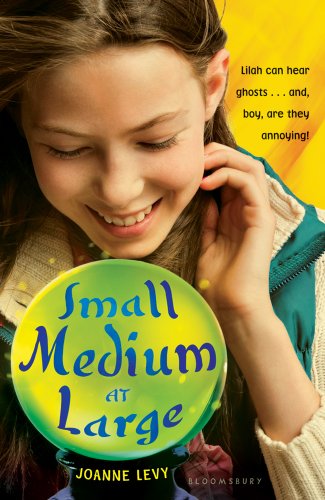 Publisher's Note:
After she's hit by lightning at a wedding, twelve-year-old Lilah Bloom develops a new talent: she can hear dead people. Among them, there's her overopinionated Bubby Dora; a prissy fashion designer; and an approval-seeking clown who livens up a séance. With Bubby Dora leading the way, these and other sweetly imperfect ghosts haunt Lilah through seventh grade, and help her face her one big fear: talking to—and possibly going to the seventh-grade dance with—her crush, Andrew Finkel.
This book was sent to Compass Book Ratings for review by Bloomsbury Children's Books
Small Medium At Large
by Joanne Levy
Overall Review:
Lilah Bloom is the epitome of ordinary. She's interested in makeup, malls, and boys; she's eagerly anticipating her thirteenth birthday party in a few months; and... she can hear dead people? After getting struck by lightning, Lilah wakes up in the hospital to discover that she can hear her outspoken grandmother, Bubby Dora—a woman who's been dead for years. Bubby Dora is joined by a host of entertaining, insightful, and sometimes tender-hearted ghosts who all work together to make sure that Lilah's schoolyear is a good one. Small Medium At Large is a fast-paced, well-voiced jaunt through the life of one quirky, loveable middle school girl. Some of the scenarios and characters seemed a little flat to me, and at times I felt that the subject matter of the book was somewhat mature for the intended audience. Still, I enjoyed reading Small Medium At Large... and it left me wishing for a few friendly ghosts of my own!
This review is of an advance uncorrected proof.
Content Analysis:
Profanity/Language:
***
Violence/Gore:
***
Sex/Nudity:
Preteen girls discuss crushes (on several occasions); one preteen girl is described as "boy-crazy". Characters (both adult couples and preteens) flirt on several occasions. Older girls at school are described as having "boobs," which make them "popular with the guys." A preteen girl goes bra shopping; after she is finished, she bumps into a preteen boy and her bags spill open, revealing the bras; the girl is embarrassed and runs away. Later, while they are talking, the girl notices with embarrassment that the boy is looking at her chest. A girl shows off her new bra (by pulling up her shirt) to her friends on a few different occasions. Preteen girls plan for a school dance and wonder if their dates will kiss them; they discuss French kissing and "using tongue" (agreeing that it is gross and they will wait at least a year before allowing that). A preteen boy kisses a preteen girl. Later, he asks if he can kiss her again and she says that he can, adding "But no tongue." A preteen girl says that her friend's date didn't go well, and indicates that it was because the date tried to kiss her friend "with tongue." A preteen girl wonders if her father has kissed the woman he took on a date. A father asks a preteen girl if she kissed a preteen boy and she admits that she did, but reassures him that "he doesn't use his tongue."
Mature Subject Matter:
Divorce, death, cancer, remarriage of parents.
Alcohol / Drug Use:
Adults drink champagne at a wedding.
Reviewed By CindyB